Richland 35, Kennewick 7
2015 GAME 6: Friday October 9, 2015

Game Recap October 10, 2015
Richland and Kennewick have a long history of football animosity. Ask a fan (or a player) of any age from either school and you'll hear stories of miraculous plays, sketchy ball spots, questionable on-field antics, and possibly even bench-clearing brawls. It's our own local version of Chicago-Green Bay, and there is never any love lost during a guaranteed tough game.

This game was no different, but at the risk of sounding like a skipping CD, the Bomber defense was determined to prove its dominance. Kennewick came into the game with the conference's fifth leading rusher and fifth leading receiver, and seemed to be an offensively capable team. Spoiler alert: Kennewick had no offensive scores in the game and only one first down in the first half, and that came when most of the starters were on the sideline. The Lions had nowhere to go for the duration of the game, and despite a handful of first downs in the second half, no real scoring opportunities. It was defensive dominance by the Bombers throughout.

Richland's offense shined in this game as well. It took only three plays after kickoff for Lakota Wills to fake right, cut left, and run untouched 42 yards for a touchdown. With only a minute and a half gone from the clock, Kennewick was in for a long night. After tough runs by Kyle Whitby and Wills to get to the Kennewick 40, quarterback Paxton Stevens saw Alex Chapman running an unopposed straight line down the middle. Catching the ball at the five, Chapman scored for the eighth time this year. After a few back and forth punts, the Bombers found themselves at fourth down and 15 yards to go from their own 45. Punter Ryan Wolski didn't punt. Instead, he ran down the right side to the Lion's 35. After several runs by Whitby, Wills, and even a keeper by Stevens, Wills finally forced his way in for another six. Kennewick, absolutely throttled on all sides, hadn't seen the last of Wills yet. On a punt from their own 25, Wills, surprisingly unblocked, hit the ball as it was leaving the punter's foot. Senior Brad Anderson scooped it up and ran 15 yards to make it 28-0. A few meaningless plays later, including Kennewick's only first down of the half, and halftime gave the Lions a break from the onslaught.

The Kennewick offense saw a swarm of green helmets everywhere they went in the first half, and they should not have hoped for anything better in the second. With a good number of the defensive starters on the sideline, including Wills—who didn't play at all after halftime—the Lions were able to collect a handful of first downs but were unable to turn those into points. They did get down to the Richland five (with the help of some penalties resulting from a grudge match taking place in the trenches), but turned it over on downs. Their lone bright spot came when Richland tried to pass themselves away from the end zone. Stevens fired a low pass to Rhett Levin, who popped it up in the air trying to save the play. An orange jersey was there to pick it for an easy touchdown.

The final touchdown came after a 31 yard Wolski reception to the seven, and Stevens scrambled in from there. His poise allowed for a good offensive game, with good catches from Griffey March and Levin, along with Chapman and Wolski. Grinding out the fourth quarter, the second string offense provided some good runs by sophomore running back Victor Strasser, while the defense continued to force Kennewick punts.

It was a showing that should provide very little confidence for the next opponent, the Pasco Bulldogs, who pulled off a last second win over Kennewick last week.
Tri-City Herald: Bombers roll to victory

Go Bombers!
October 9, 2015

1

2

3

4

Final

Richland Bombers

14

14

0

7

35

Kennewick Lions

0

0

7

0

7
1st Quarter

Touchdown: Wills 42 yard run (Wolski kick)
Richland 7, Kennewick 0

Touchdown: Chapman 39 yard pass from Stevens (Wolski kick)
Richland 14, Kennewick 0
2nd Quarter

Touchdown: Wills 1 yard run (Wolski kick)
Richland 21, Kennewick 0

Touchdown: Brad Anderson fumble recovery in endzone (Wolski kick)
Richland 28, Kennewick 0
3rd Quarter

Touchdown: Loomis 10 yard interception return (Mercado kick)
Richland 28, Kennewick 7
4th Quarter

Touchdown: Stevens 6 yard run (Wolski kick)
Richland 35, Kennewick 7
Kennewick Lions
Lions v. Bombers History
Friday October 7, 2022 Fran Rish Stadium
Kennewick

Lions

Richland

Bombers

Head Coach: Mike Neidhold
Saturday October 30, 2021 Neil F. Lampson Stadium
Richland

Bombers

7

Kennewick

Lions

27

Head Coach: Mike Neidhold
Friday March 5, 2021 Neil F. Lampson Stadium
Richland

Bombers

7

Kennewick

Lions

22

Head Coach: Mike Neidhold
Friday October 25, 2019 Fran Rish Stadium
Kennewick

Lions

19

Richland

Bombers

14

Head Coach: Mike Neidhold
Friday October 19, 2018 Neil F. Lampson Stadium
Richland

Bombers

35

Kennewick

Lions

14

Head Coach: Mike Neidhold
Friday September 15, 2017 Fran Rish Stadium
Kennewick

Lions

7

Richland

Bombers

48

Head Coach: Mike Neidhold
Thursday September 15, 2016 Neil F. Lampson Stadium
Richland

Bombers

40

Kennewick

Lions

0

Head Coach: Mike Neidhold
Friday October 9, 2015 Neil F. Lampson Stadium
Richland

Bombers

35

Kennewick

Lions

7

Head Coach: Mike Neidhold
Friday October 10, 2014 Fran Rish Stadium
Kennewick

Lions

7

Richland

Bombers

44

Head Coach: Mike Neidhold
Friday October 11, 2013 Neil F. Lampson Stadium
Richland

Bombers

56

Kennewick

Lions

14

Head Coach: Mike Neidhold
Friday October 5, 2012 Fran Rish Stadium
Kennewick

Lions

14

Richland

Bombers

29

Head Coach: Mike Neidhold
Friday October 10, 2008 Fran Rish Stadium
Kennewick

Lions

7

Richland

Bombers

41

Head Coach: Mike Neidhold
Friday September 2, 2005 Neil F. Lampson Stadium
Richland

Bombers

9

Kennewick

Lions

5

Head Coach: Garrick Redden
Friday September 10, 2004 Fran Rish Stadium
Kennewick

Lions

33

Richland

Bombers

8

Head Coach: Lonnie Pierson
Thursday November 6, 2003 Fran Rish Stadium
600th Richland Bomber Football Game

Kennewick

Lions

25

Richland

Bombers

28

Head Coach: Lonnie Pierson
Thursday November 7, 2002 Neil F. Lampson Stadium
Richland

Bombers

28

Kennewick

Lions

12

Head Coach: Lonnie Pierson
Friday September 14, 2001 Fran Rish Stadium
Kennewick

Lions

12

Richland

Bombers

33

Head Coach: Lonnie Pierson
Friday October 20, 2000 Fran Rish Stadium
Kennewick

Lions

26

Richland

Bombers

49

Head Coach: Lonnie Pierson
Friday October 22, 1999 Neil F. Lampson Stadium
Richland

Bombers

28

Kennewick

Lions

7

Head Coach: Lonnie Pierson
1998
Kennewick

Lions

12

Richland

Bombers

15

Head Coach: Lonnie Pierson
1997
Kennewick

Lions

20

Richland

Bombers

34

Head Coach: Lonnie Pierson
1996
Kennewick

Lions

16

Richland

Bombers

44

Head Coach: Lonnie Pierson
1995
Kennewick

Lions

30

Richland

Bombers

32

Head Coach: Lonnie Pierson
1994
Kennewick

Lions

17

Richland

Bombers

40

Head Coach: Lonnie Pierson
1993
Kennewick

Lions

6

Richland

Bombers

3

Head Coach: Lonnie Pierson
1992
Kennewick

Lions

36

Richland

Bombers

13

Head Coach: Lonnie Pierson
1991
Kennewick

Lions

56

Richland

Bombers

7

Head Coach: Lonnie Pierson
1990
Kennewick

Lions

7

Richland

Bombers

42

Head Coach: Lonnie Pierson
1989
Kennewick

Lions

27

Richland

Bombers

28

Head Coach: Lonnie Pierson
1989
Class "AAA" State Playoffs Quarterfinals

Kennewick

Lions

23

Richland

Bombers

21

Head Coach: Lonnie Pierson
1988
Kennewick

Lions

18

Richland

Bombers

19

Head Coach: Lonnie Pierson
1987
Kennewick

Lions

14

Richland

Bombers

35

Head Coach: Lonnie Pierson
1986
Kennewick

Lions

69

Richland

Bombers

17

Head Coach: Lonnie Pierson
1985
Kennewick

Lions

27

Richland

Bombers

17

Head Coach: JD Covington
1984
Kennewick

Lions

41

Richland

Bombers

6

Head Coach: JD Covington
1983
Kennewick

Lions

31

Richland

Bombers

0

Head Coach: JD Covington
1983 Fran Rish Stadium
Big Nine Mini-Playoff (Two 8-minute quarters); 400th Richland Bomber Football Game

Kennewick

Lions

14

Richland

Bombers

7

Head Coach: JD Covington
1982
Kennewick

Lions

20

Richland

Bombers

0

Head Coach: JD Covington
1981
Kennewick

Lions

14

Richland

Bombers

10

Head Coach: JD Covington
1981
Class "AAA" State Playoffs Quarterfinals

Kennewick

Lions

7

Richland

Bombers

34

Head Coach: JD Covington
Friday September 19, 1980 Neil F. Lampson Stadium
Richland

Bombers

20

Kennewick

Lions

7

Head Coach: JD Covington
1979
Kennewick

Lions

35

Richland

Bombers

14

Head Coach: JD Covington
1978
Kennewick

Lions

0

Richland

Bombers

7

Head Coach: JD Covington
1977
Kennewick

Lions

7

Richland

Bombers

21

Head Coach: JD Covington
1976
Kennewick

Lions

0

Richland

Bombers

28

Head Coach: JD Covington
Friday October 31, 1975
Kennewick

Lions

20

Richland

Bombers

35

Head Coach: JD Covington
1974
Kennewick

Lions

0

Richland

Bombers

14

Head Coach: JD Covington
1973
Kennewick

Lions

6

Richland

Bombers

7

Head Coach: JD Covington
Friday October 6, 1972 KHS Stadium
Richland

Bombers

27

Kennewick

Lions

7

Head Coach: JD Covington
Friday October 8, 1971 Bomber Bowl
Kennewick

Lions

8

Richland

Bombers

28

Head Coach: JD Covington
1970
Kennewick

Lions

26

Richland

Bombers

6

Head Coach: George Rallis
1969
Kennewick

Lions

0

Richland

Bombers

20

Head Coach: George Rallis
1969
Kennewick

Lions

26

Richland

Bombers

14

Head Coach: George Rallis
1968
Kennewick

Lions

6

Richland

Bombers

14

Head Coach: George Rallis
1967
Kennewick

Lions

7

Richland

Bombers

29

Head Coach: George Rallis
1966 Neil F. Lampson Stadium
Richland

Bombers

13

Kennewick

Lions

13

Head Coach: Fran Rish
1965
Kennewick

Lions

7

Richland

Bombers

25

Head Coach: Fran Rish
1964
Kennewick

Lions

20

Richland

Bombers

13

Head Coach: Fran Rish
Friday October 4, 1963 KHS Stadium
Fran Rish's 100th Victory

Richland

Bombers

20

Kennewick

Lions

7

Head Coach: Fran Rish
1962
Kennewick

Lions

6

Richland

Bombers

0

Head Coach: Fran Rish
1961
Kennewick

Lions

13

Richland

Bombers

14

Head Coach: Fran Rish
1960
Kennewick

Lions

13

Richland

Bombers

18

Head Coach: Fran Rish
1959
Kennewick

Lions

24

Richland

Bombers

45

Head Coach: Fran Rish
1958
Kennewick

Lions

26

Richland

Bombers

27

Head Coach: Fran Rish
1957 Bomber Bowl
Kennewick

Lions

0

Richland

Bombers

20

Head Coach: Fran Rish
Friday October 26, 1956 Lions Field
Richland

Bombers

33

Kennewick

Lions

0

Head Coach: Fran Rish
1955
Kennewick

Lions

20

Richland

Bombers

7

Head Coach: Fran Rish
1954
Kennewick

Lions

13

Richland

Bombers

27

Head Coach: Fran Rish
1953
Kennewick

Lions

6

Richland

Bombers

32

Head Coach: Fran Rish
Friday October 17, 1952 KHS Stadium
Richland

Bombers

20

Kennewick

Lions

12

Head Coach: Fran Rish
Friday October 19, 1951 Bomber Bowl
Homecoming

Kennewick

Lions

7

Richland

Bombers

21

Head Coach: Fran Rish
Saturday October 21, 1950 Bomber Bowl
Kennewick

Lions

13

Richland

Bombers

32

Head Coach: Fran Rish
Friday October 21, 1949 Bomber Bowl
Kennewick

Lions

12

Richland

Bombers

14

Head Coach: Fran Rish
Friday October 22, 1948 KHS Stadium
Richland

Bombers

13

Kennewick

Lions

16

Head Coach: Fran Rish
Friday October 10, 1947 Neil F. Lampson Stadium
Richland

Bombers

0

Kennewick

Lions

7

Head Coach: Fran Rish
Friday October 11, 1946 Neil F. Lampson Stadium
Richland

Bombers

0

Kennewick

Lions

6

Head Coach: Fran Rish
Friday October 26, 1945 Bomber Bowl
Kennewick

Lions

47

Richland

Bombers

6

Head Coach: Fred Littau
Friday November 16, 1945 KHS Stadium
Richland

Bombers

0

Kennewick

Lions

44

Head Coach: Fred Littau
Friday October 20, 1944
Mascot officially changed from Broncs to Beavers

Richland

Beavers

18

Kennewick

Lions

13

Head Coach: John F. Eubanks
Thursday November 23, 1944
Kennewick

Lions

6

Richland

Beavers

46

Head Coach: John F. Eubanks
1926
Kennewick

Lions

0

Richland

Colts

0

Head Coach: Raymond V. Puette
1925
Kennewick

Lions

18

Richland

Colts

0

Head Coach: VG Lowman
1919
Kennewick

Lions

69

Richland

0

Head Coach: Elmer H Dixon
1919
Kennewick

Lions

1

Richland

0

Head Coach: Elmer H Dixon
1916
Kennewick

Lions

7

Richland

0

Head Coach: C. H. Lillie
1916
Kennewick

Lions

0

Richland

0

Head Coach: C. H. Lillie
1915
Kennewick

Lions

8

Richland

0

Head Coach: C. H. Lillie
1915
Kennewick

Lions

22

Richland

6

Head Coach: C. H. Lillie
1914
Kennewick

Lions

0

Richland

6

Head Coach: C. H. Lillie
1914
Kennewick

Lions

0

Richland

41

Head Coach: C. H. Lillie
1912
Kennewick

Lions

20

Richland

0

Head Coach: C. H. Lillie
1912
Kennewick

Lions

39

Richland

0

Head Coach: C. H. Lillie
Kennewick High School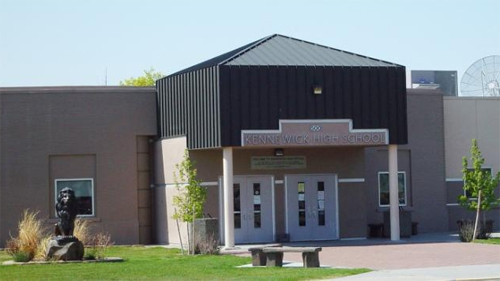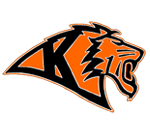 Kennewick High School

500 S Dayton Street
Kennewick, WA
Mascot: Lions
Bombers v. Lions

Games

Bombers

Lions

Wins

54

1,535

565

Losses

34

216

875

Ties

3

13

13

Overall

91

1,764

1,453
Records by Head Coach

Wins

Losses

Ties

Fran Rish

14

6

1

Lonnie Pierson

14

6

0

JD Covington

10

7

0

Mike Neidhold

8

3

0

George Rallis

3

2

0

C. H. Lillie

2

5

1

John F. Eubanks

2

0

0

Garrick Redden

1

0

0

Elmer H Dixon

0

2

0

VG Lowman

0

1

0

Raymond V. Puette

0

0

1

Fred Littau

0

2

0
Neil F. Lampson Stadium