Richland 39, Walla Walla 6
2017 GAME 7: Friday October 13, 2017

Game Recap October 14, 2017
The Bomber defense flexed its collective muscles once again, this time at a cold, wet Borleske Stadium, holding the Walla Walla Blue Devils to just over 100 yards of offense, 50 of which came on a single scoring run in the fourth quarter against a motley assortment of JV defenders. While the 39-6 final score wasn't as lopsided as many expected, the Bomber still came out with a decisive win.

Spectators witnessed a rare event in the form of a safety on each of Walla Walla's first two offensive series. The formidable Bomber D pushed the offense backward each time, a swarm of white shirts anywhere blue tried to run. Pinned against their own goal line, the Devils were forced to punt from the endzone but were pressured into a safety each time, making the score an odd 4-0.
Meanwhile, Richland's offense, leading the MCC in passing yards per game, was somewhat uninspired to start, giving the Blue Devils a small amount of hope on the first drive by throwing an interception on 4th and 10. Richland running backs Parker McCary and Jared Whitby put up 92 and 72 yards respectively, Whitby with two touchdowns, but Cade Jensen had a relatively slow game, throwing for 189 yards on 13 completions with three interceptions. Among an assortment of variations, tight end Connor Faucheaux caught 4 passes for 41 yards, a rare occurrence in the Richland offense. Three-year starting OL Aric Davison played mostly defense this game, while defensive stalwart Jax Lee could be found on the offensive line for much of the game. Many of the starting offensive linemen also saw time on the defensive side for the first time.
Richland's first offensive points came on the second possession as Ryan Piper hauled in a long pass over his shoulder at the 20 and dragged a defender into the endzone with him. The Bombers gave no ground again on defense, pinning the home team deep in their own territory again. The defensive line gave the rest of the defense a break on this series, storming in to the backfield nearly instantly after each snap, giving the QB no chance to find a receiver.
Davison nearly intercepted one desperate heave as ends Braden Powell and Cubby Stanfield charged in untouched on third down. After Faucheaux made it to the five on his second catch of the series (when was the last time Richland threw to a TE more than once in a series?), Whitby finally ran around the left side behind McCary's block to add to the total score, 18-0 with 1:52 left in the quarter. The following kickoff looked like it might be the start of a run as the Walla Walla returner bobbled the catch, allowing sophomore Sam Stanfield the chance to fall on the ball at the 40, but Jensen threw three straight incompletions (one of which would have been the catch of the year by Josh Mendoza had the DB not put his fingertips on the ball), resulting in a turnover on downs.
Davison reared his head again, putting the Blue Devil QB down for a loss of 15 yards to force a punt, and McCary tore out a long run, complete with a triple dodge move, to get near the endzone again, but the interception bug struck again. Adam Weissenfels made it 25-0 on the punt (from the endzone, of course), catching it at the 30, cutting once to the left, and sprinting down the sideline past a muddled mass of blue. Most of the rest of the second quarter was burned up with big plays called back on penalties and the defense stifling the Walla Walla offense. The offense had a good series with big catches by Sammy Cervantes and Ryan Kriskovich, another big run by McCary to the goal line, and a keeper by Jensen to make the score 32-0 with one minute until the half.
The third quarter went scoreless until the four minute mark, when Casey Perryman zipped in on the right side untouched, assisted by a Cervantes pancake block. That was the final score for Richland with an entire quarter to burn. Walla Walla finally got on the board with five minutes left on a 50 yard run up the middle, but the PAT was blocked by Cody Sanderson.
Defensively, Richland couldn't have been much better. The D line got most of the action simply by the fact that they were the first there. Davison had two near interceptions, Stanfield and Powell sealed off the outside and kept pressure on the passing pocket, Caleb Chapman filled in nicely for Jax Lee at tackle, and the linebackers filled the holes where necessary. Ryan Piper had another good game at safety, coming up to lay hits on ball carriers at the line.
Next Friday Chiawana comes to Fran Rish fresh off an 84 point win against Pasco. In the short history of this heated rivalry, neither school has beat the other in three consecutive years. The 2017 Bombers have an opportunity to make a small piece of school history, along with tying up the MCC title for the third straight year. Come cheer them on as they give it a shot.
Go Bombers!
Atomic TV Livestream: Walla Walla Blue Devils v. Richland Bombers
October 13, 2017

1

2

3

4

Final

Richland Bombers

18

14

7

0

39

Walla Walla Blue Devils

0

0

0

6

6
1st Quarter

Safety: Ball out of the end zone on a punt
Richland 2, Walla Walla 0

Safety: Ball out of the end zone and a punt
Richland 4, Walla Walla 0

Touchdown: Ryan Piper 44 yard pass from Cade Jensen (Adam Weissenfels kick)
Richland 11, Walla Walla 0

Touchdown: Jared Whitby 4 yard run (Weissenfels kick)
Richland 18, Walla Walla 0
2nd Quarter

Touchdown: Weissenfels 31 yard punt return (Weissenfels kick)
Richland 25, Walla Walla 0

Touchdown: Jensen 1 yard run (Weissenfels kick)
Richland 32, Walla Walla 0
3rd Quarter

Touchdown: Whitby 19 yard run (Casey Perryman kick)
Richland 39, Walla Walla 0
4th Quarter

Touchdown: Edwin Romero 50 yard run (kick blocked)
Richland 39, Walla Walla 6
News/Media

MCC Week 7 Football matchups

Tri-City Herald: Friday October 13, 2017

Tri-City Herald article from Friday, October 13, 2017

Seattle Times Top 10 and State Results

Seattle Times: Saturday October 14, 2017

Seattle Times Top 10 Ranking results and statewide scores.

Blue Devils fall to Richland, 39-6

Walla Walla Union Bulletin: Sunday October 15, 2017

Wa-Hi forces the Mid-Columbia Conference powerhouse into a battle. Union Bulletin story by Hector del Castillo in the Sunday, October 15, 2017 edition.

Richland cruises over Walla Walla

Tri-City Herald: Sunday October 15, 2017

Tri-City Herald MCC Football recap from Sunday, October 15, 2017.

Richland football narrows gap in 4A poll

Tri-City Herald: Thursday October 19, 2017

Washington State AP Football Poll story by Kevin Anthony in the Thursday, October 19, 2017 edition of the Tri-City Herald. Richland sits at No. 3 and Chiawana is catching up at No. 5 with the big matchup due on Friday, October 21, 2017.

Greater Spokane League Standings - October 19

Spokane Spokesman-Review: Thursday October 19, 2017

GSL and state poll for October 19, 2017.
Walla Walla Blue Devils
Blue Devils v. Bombers History
Friday October 14, 2022 Borleske Stadium
Richland

Bombers

Walla Walla

Blue Devils

Head Coach: Mike Neidhold
Friday October 15, 2021 Borleske Stadium
Richland

Bombers

49

Walla Walla

Blue Devils

27

Head Coach: Mike Neidhold
Friday October 4, 2019 Fran Rish Stadium
Walla Walla

Blue Devils

35

Richland

Bombers

28

Head Coach: Mike Neidhold
Friday September 28, 2018 Borleske Stadium
Richland

Bombers

35

Walla Walla

Blue Devils

14

Head Coach: Mike Neidhold
Friday October 13, 2017 Borleske Stadium
Richland

Bombers

39

Walla Walla

Blue Devils

6

Head Coach: Mike Neidhold
Friday October 14, 2016 Fran Rish Stadium
Walla Walla

Blue Devils

14

Richland

Bombers

64

Head Coach: Mike Neidhold
Friday October 2, 2015 Fran Rish Stadium
Walla Walla

Blue Devils

19

Richland

Bombers

31

Head Coach: Mike Neidhold
Friday October 3, 2014 Borleske Stadium
Richland

0

Walla Walla

Blue Devils

34

Head Coach: Mike Neidhold
Friday September 13, 2013 Fran Rish Stadium
Walla Walla

Blue Devils

6

Richland

Bombers

21

Head Coach: Mike Neidhold
Friday September 7, 2012 Borleske Stadium
Richland

Bombers

26

Walla Walla

Blue Devils

20

Head Coach: Mike Neidhold
Friday October 14, 2011 Borleske Stadium
Richland

Bombers

31

Walla Walla

Blue Devils

15

Head Coach: Mike Neidhold
Friday October 15, 2010 Fran Rish Stadium
Walla Walla

Blue Devils

7

Richland

Bombers

34

Head Coach: Mike Neidhold
Friday October 23, 2009 Borleske Stadium
Richland

Bombers

21

Walla Walla

Blue Devils

35

Head Coach: Mike Neidhold
Thursday October 23, 2008 Fran Rish Stadium
Walla Walla

Blue Devils

19

Richland

Bombers

34

Head Coach: Mike Neidhold
Friday September 14, 2007 Fran Rish Stadium
Walla Walla

Blue Devils

14

Richland

Bombers

28

Head Coach: Garrick Redden
Friday September 15, 2006 Borleske Stadium
Richland

Bombers

16

Walla Walla

Blue Devils

7

Head Coach: Garrick Redden
Friday October 28, 2005 Borleske Stadium
Richland

Bombers

14

Walla Walla

Blue Devils

19

Head Coach: Garrick Redden
Friday October 29, 2004 Fran Rish Stadium
Walla Walla

Blue Devils

41

Richland

Bombers

34

Head Coach: Lonnie Pierson
Thursday November 1, 2001 Fran Rish Stadium
Walla Walla

Blue Devils

14

Richland

Bombers

0

Head Coach: Lonnie Pierson
Friday September 29, 2000 Fran Rish Stadium
Walla Walla

Blue Devils

21

Richland

Bombers

45

Head Coach: Lonnie Pierson
Friday October 1, 1999 Borleske Stadium
Richland

Bombers

21

Walla Walla

Blue Devils

42

Head Coach: Lonnie Pierson
1998
Walla Walla

Blue Devils

27

Richland

Bombers

14

Head Coach: Lonnie Pierson
1997
Walla Walla

Blue Devils

10

Richland

Bombers

14

Head Coach: Lonnie Pierson
1996
Walla Walla

Blue Devils

21

Richland

Bombers

16

Head Coach: Lonnie Pierson
1995
Walla Walla

Blue Devils

36

Richland

Bombers

20

Head Coach: Lonnie Pierson
1994
Walla Walla

Blue Devils

30

Richland

Bombers

14

Head Coach: Lonnie Pierson
1994 Fran Rish Stadium
Class "AAA" State Playoffs Quarterfinals; 500th Richland Bomber Football Game

Walla Walla

Blue Devils

14

Richland

Bombers

0

Head Coach: Lonnie Pierson
1993
Walla Walla

Blue Devils

24

Richland

Bombers

21

Head Coach: Lonnie Pierson
1992
Walla Walla

Blue Devils

14

Richland

Bombers

7

Head Coach: Lonnie Pierson
1991
Walla Walla

Blue Devils

8

Richland

Bombers

24

Head Coach: Lonnie Pierson
1990
Walla Walla

Blue Devils

14

Richland

Bombers

38

Head Coach: Lonnie Pierson
1989
Walla Walla

Blue Devils

6

Richland

Bombers

35

Head Coach: Lonnie Pierson
1988
Walla Walla

Blue Devils

7

Richland

Bombers

12

Head Coach: Lonnie Pierson
1987
Walla Walla

Blue Devils

14

Richland

Bombers

26

Head Coach: Lonnie Pierson
1986
Walla Walla

Blue Devils

7

Richland

Bombers

10

Head Coach: Lonnie Pierson
1985
Walla Walla

Blue Devils

21

Richland

Bombers

24

Head Coach: JD Covington
1984
Walla Walla

Blue Devils

19

Richland

Bombers

15

Head Coach: JD Covington
1983
Walla Walla

Blue Devils

14

Richland

Bombers

7

Head Coach: JD Covington
1982
Walla Walla

Blue Devils

42

Richland

Bombers

0

Head Coach: JD Covington
1981
Walla Walla

Blue Devils

12

Richland

Bombers

39

Head Coach: JD Covington
Friday October 17, 1980 Bomber Bowl
Walla Walla

Blue Devils

7

Richland

Bombers

33

Head Coach: JD Covington
1979
Walla Walla

Blue Devils

21

Richland

Bombers

12

Head Coach: JD Covington
1978
Walla Walla

Blue Devils

20

Richland

Bombers

42

Head Coach: JD Covington
1977
Walla Walla

Blue Devils

0

Richland

Bombers

14

Head Coach: JD Covington
1976
Walla Walla

Blue Devils

9

Richland

Bombers

7

Head Coach: JD Covington
1975
Walla Walla

Blue Devils

19

Richland

Bombers

41

Head Coach: JD Covington
1974
Walla Walla

Blue Devils

8

Richland

Bombers

27

Head Coach: JD Covington
1973
Walla Walla

Blue Devils

35

Richland

Bombers

14

Head Coach: JD Covington
Friday November 10, 1972 Bomber Bowl
Walla Walla

Blue Devils

6

Richland

Bombers

28

Head Coach: JD Covington
Friday November 12, 1971 Borleske Stadium
Richland

Bombers

0

Walla Walla

Blue Devils

19

Head Coach: JD Covington
1970
Jamboree

Walla Walla

Blue Devils

26

Richland

Bombers

6

Head Coach: George Rallis
1970
Walla Walla

Blue Devils

33

Richland

Bombers

7

Head Coach: George Rallis
1969
Walla Walla

Blue Devils

28

Richland

Bombers

6

Head Coach: George Rallis
1968
Jamboree

Walla Walla

Blue Devils

6

Richland

Bombers

0

Head Coach: George Rallis
1968
Walla Walla

Blue Devils

28

Richland

Bombers

6

Head Coach: George Rallis
1967
Walla Walla

Blue Devils

23

Richland

Bombers

14

Head Coach: George Rallis
1967
Walla Walla

Blue Devils

26

Richland

Bombers

0

Head Coach: George Rallis
1966 Borleske Stadium
Richland

Bombers

0

Walla Walla

Blue Devils

14

Head Coach: Fran Rish
1966 Fran Rish Stadium
Walla Walla

Blue Devils

20

Richland

Bombers

0

Head Coach: Fran Rish
1965
Walla Walla

Blue Devils

20

Richland

Bombers

13

Head Coach: Fran Rish
1965
Walla Walla

Blue Devils

21

Richland

Bombers

7

Head Coach: Fran Rish
1964
Walla Walla

Blue Devils

12

Richland

Bombers

6

Head Coach: Fran Rish
1964
Walla Walla

Blue Devils

21

Richland

Bombers

6

Head Coach: Fran Rish
Friday November 8, 1963 Borleske Stadium
Richland

Bombers

7

Walla Walla

Blue Devils

14

Head Coach: Fran Rish
1962
Walla Walla

Blue Devils

0

Richland

Bombers

7

Head Coach: Fran Rish
1961
Walla Walla

Blue Devils

7

Richland

Bombers

26

Head Coach: Fran Rish
1960
Walla Walla

Blue Devils

39

Richland

Bombers

18

Head Coach: Fran Rish
1959
Walla Walla

Blue Devils

13

Richland

Bombers

6

Head Coach: Fran Rish
1958
Walla Walla

Blue Devils

27

Richland

Bombers

0

Head Coach: Fran Rish
1957 Bomber Bowl
Walla Walla

Blue Devils

0

Richland

Bombers

20

Head Coach: Fran Rish
1957 Borleske Stadium
Richland

Bombers

12

Walla Walla

Blue Devils

12

Head Coach: Fran Rish
Friday October 5, 1956 Borleske Stadium
Richland

Bombers

21

Walla Walla

Blue Devils

28

Head Coach: Fran Rish
1955
Walla Walla

Blue Devils

20

Richland

Bombers

6

Head Coach: Fran Rish
1955
Walla Walla

Blue Devils

0

Richland

Bombers

13

Head Coach: Fran Rish
1954
Walla Walla

Blue Devils

6

Richland

Bombers

0

Head Coach: Fran Rish
1954
Walla Walla

Blue Devils

7

Richland

Bombers

0

Head Coach: Fran Rish
1953
Walla Walla

Blue Devils

7

Richland

Bombers

7

Head Coach: Fran Rish
Friday October 10, 1952 Borleske Stadium
Richland

Bombers

7

Walla Walla

Blue Devils

28

Head Coach: Fran Rish
Friday October 12, 1951 Bomber Bowl
Record Crowd of 6,700 at Bomber Bowl

Walla Walla

Blue Devils

19

Richland

Bombers

14

Head Coach: Fran Rish
Saturday October 14, 1950 Borleske Stadium
Richland

Bombers

6

Walla Walla

Blue Devils

21

Head Coach: Fran Rish
Friday October 4, 1946 Bomber Bowl
Walla Walla

Blue Devils

7

Richland

Bombers

0

Head Coach: Fran Rish
Friday October 5, 1945 Borleske Stadium
Richland

Bombers

0

Walla Walla

Blue Devils

21

Head Coach: Fred Littau
Walla Walla High School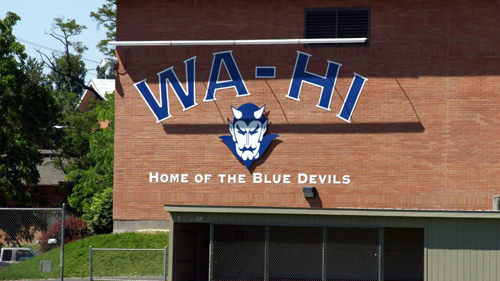 Walla Walla High School

800 Abbott Road
Walla Walla , WA
Mascot: Blue Devils
Bombers v. Blue Devils

Games

Bombers

Blue Devils

Wins

32

926

355

Losses

47

421

1,073

Ties

2

19

19

Overall

81

1,366

1,447
Records by Head Coach

Wins

Losses

Ties

Mike Neidhold

10

3

0

JD Covington

8

7

0

Lonnie Pierson

8

10

0

Fran Rish

4

18

2

Garrick Redden

2

1

0

Fred Littau

0

1

0

George Rallis

0

7

0
Borleske Stadium