Richland 31, Walla Walla 19
2015 GAME 5: Friday October 2, 2015

Game Recap October 3, 2015
By this time, a team that has done any scouting at all should know the Richland D line is as tough as they come. The problem is, any attempt to overcome that obstacle leaves you exposed to the rest of the defense. You'll have four long quarters to try putting points on the scoreboard. The Walla Walla Blue Devils had their chance tonight.

The Blue Devils were pumped on the opening kickoff when a missed block had Griffey March on the receiving end of a big hit. It looked like they came ready to take on a Bomber team that's been on a roll. They didn't come ready enough, because seven plays and 80 yards later, Kyle Whitby stiff-armed his way into the end zone only three minutes into the game.

Using a short kickoff and a quick pass that went for big yards, Walla Walla unwisely tried to run it in from the one, but found Whitby and Taiton Gillespie instead, forcing a turnover on downs. Unfortunately, the Bombers were unable to improve on their field position, and a short punt from the end zone gave Walla Walla the ball at the twenty, a stroke of good luck they took advantage of, throwing to the tight end across the middle, who then dived in for six points. Alex Chapman blocked the extra point to make it 7-6 with 1:25 left in the first quarter.

Starting from the 35, McKlane Elgin ran twice before Paxton Stevens found Chapman running wide open across the middle, leaving only one defender to dodge and one to burn. His 59 yard touchdown made it 14-6 with 5 seconds to go.

After grinding it out on the ground and trading punts through the second quarter, Richland finally went back to the passing game to get to the twelve yard line, where Lakota Wills ran over a courageous but ineffective defender for his sixth rushing touchdown of the season. 21-6 Bombers, 3:00 minutes to go in the half.

The Bomber defense got another chance to show off after a bad snap forced punter Ryan Wolski to take a big loss deep in Richland territory. Learning from the past, the Blue Devils tried to use their passing game to get back in it, but Ryan Piper came up with an interception to get the ball back. The rest of the third quarter showed both teams trying to get their running games in gear, but despite Whitby and Wills taking turns kicking up dirt and having some success, it was mostly back and forth punts. Richland finally got down to the one, but penalties called back a Whitby run to the end zone and pushed the team back far enough that an easy Wolski field goal seemed like the best way to start the fourth quarter. At 24-6 coming into the home stretch, things looked good for the Bombers.

More tough defense and an electrifying punt return by Griffey March gave the Bombers good field position. Following a tightrope sideline catch by Chapman at the nine, Wills bashed his way in for the final Richland score to go up 31-6 with 7:00 minutes left.

After some good Richland passes and runs, The Devils took advantage of the second string with an interception taken all the way back for six, but failed on the point after. Still down 31-12 with 2:00 minutes to go, they collected their own onside kick to give them what they thought would be a chance at a comeback. Stranger things have happened I guess. Riding penalties down to the Richland four, The Devils found an opening in the inexperienced secondary to make it 31-19 with 3 seconds left. I'm no mathematician, but you can't score twelve points in three seconds.

Despite avoiding the deadly defensive end duo of Wills and John Hardy for most of the game, Walla Walla couldn't overcome the all-around Bomber defense to give themselves a chance at chasing the dynamic Bomber offense. Richland brings their momentum and their 4-1 record to Lampson Stadium next week to take on the 2-3 Kennewick Lions.
Tri-City Herald: Richland sweeps aside Wa-Hi
| Friday, October 2, 2015 | 1 | 2 | 3 | 4 | Final |
| --- | --- | --- | --- | --- | --- |
| Walla Walla Blue Devils | 6 | 0 | 0 | 13 | 19 |
| Richland Bombers | 14 | 7 | 0 | 10 | 31 |
| Scoring Plays | R | WW | Time |
| --- | --- | --- | --- |
| 2R Whitby 13 yard run (5R Wolski kick) | 7 | 0 | 8:59(1) |
| 33W Davis 13 yard pass from 9W Lesmeister (PAT fail) | 7 | 6 | 1:25(1) |
| 8R Chapman 59 yard pass from 17 Stevens (5R Wolski kick) | 14 | 6 | 0:06(1) |
| 45R Wills 8 yard run (5R Wolski kick) | 21 | 6 | 3:11(2) |
| 5R Wolski 27 yard field goal | 24 | 6 | 9:15(4) |
| 45R Wills 9 yard run (5R Wolski kick) | 31 | 6 | 7:06(4) |
| 21W Porter 60 yard interception return (PAT fail) | 31 | 12 | 2:11(4) |
| 80W Wicklund 4 yard pass from 9W Lesmeister (30W Jensen kick) | 31 | 19 | 0:03(4) |
Go Bombers!
October 2, 2015

1

2

3

4

Final

Walla Walla Blue Devils

6

0

0

14

19

Richland Bombers

14

7

0

10

31
1st Quarter

Touchdown: Whitby 13 yard run (Wolski kick) (8:59)
Richland 7, Walla Walla 0

Touchdown: Davis 13 yard pass from Lesmeister (PAT fail) (1:25)
Richland 7, Walla Walla 6

Touchdown: Chapman 59 yard pass from Stevens (0:06)
Richland 14, Walla Walla 6
2nd Quarter

Touchdown: Wills 8 yard run (Wolski kick) (3:11)
Richland 21, Walla Walla 6
4th Quarter

Field Goal: Wolski 27 yards (9:15)
Richland 24, Walla Walla 6

Touchdown: Wills 9 yard run (Wolski kick) (7:06)
Richland 31, Walla Walla 6

Touchdown: Porter 60 yard interception return (PAT fail) (2:00)
Richland 31, Walla Walla 12

Touchdown: Wicklund 4 yard pass from Lesmeister (Jensen kick) (0:03)
Richland 31, Walla Walla 19
Walla Walla Blue Devils
Blue Devils v. Bombers History
Friday October 14, 2022 Borleske Stadium
Richland

Bombers

Walla Walla

Blue Devils

Head Coach: Mike Neidhold
Friday October 15, 2021 Borleske Stadium
Richland

Bombers

49

Walla Walla

Blue Devils

27

Head Coach: Mike Neidhold
Friday October 4, 2019 Fran Rish Stadium
Walla Walla

Blue Devils

35

Richland

Bombers

28

Head Coach: Mike Neidhold
Friday September 28, 2018 Borleske Stadium
Richland

Bombers

35

Walla Walla

Blue Devils

14

Head Coach: Mike Neidhold
Friday October 13, 2017 Borleske Stadium
Richland

Bombers

39

Walla Walla

Blue Devils

6

Head Coach: Mike Neidhold
Friday October 14, 2016 Fran Rish Stadium
Walla Walla

Blue Devils

14

Richland

Bombers

64

Head Coach: Mike Neidhold
Friday October 2, 2015 Fran Rish Stadium
Walla Walla

Blue Devils

19

Richland

Bombers

31

Head Coach: Mike Neidhold
Friday October 3, 2014 Borleske Stadium
Richland

0

Walla Walla

Blue Devils

34

Head Coach: Mike Neidhold
Friday September 13, 2013 Fran Rish Stadium
Walla Walla

Blue Devils

6

Richland

Bombers

21

Head Coach: Mike Neidhold
Friday September 7, 2012 Borleske Stadium
Richland

Bombers

26

Walla Walla

Blue Devils

20

Head Coach: Mike Neidhold
Friday October 14, 2011 Borleske Stadium
Richland

Bombers

31

Walla Walla

Blue Devils

15

Head Coach: Mike Neidhold
Friday October 15, 2010 Fran Rish Stadium
Walla Walla

Blue Devils

7

Richland

Bombers

34

Head Coach: Mike Neidhold
Friday October 23, 2009 Borleske Stadium
Richland

Bombers

21

Walla Walla

Blue Devils

35

Head Coach: Mike Neidhold
Thursday October 23, 2008 Fran Rish Stadium
Walla Walla

Blue Devils

19

Richland

Bombers

34

Head Coach: Mike Neidhold
Friday September 14, 2007 Fran Rish Stadium
Walla Walla

Blue Devils

14

Richland

Bombers

28

Head Coach: Garrick Redden
Friday September 15, 2006 Borleske Stadium
Richland

Bombers

16

Walla Walla

Blue Devils

7

Head Coach: Garrick Redden
Friday October 28, 2005 Borleske Stadium
Richland

Bombers

14

Walla Walla

Blue Devils

19

Head Coach: Garrick Redden
Friday October 29, 2004 Fran Rish Stadium
Walla Walla

Blue Devils

41

Richland

Bombers

34

Head Coach: Lonnie Pierson
Thursday November 1, 2001 Fran Rish Stadium
Walla Walla

Blue Devils

14

Richland

Bombers

0

Head Coach: Lonnie Pierson
Friday September 29, 2000 Fran Rish Stadium
Walla Walla

Blue Devils

21

Richland

Bombers

45

Head Coach: Lonnie Pierson
Friday October 1, 1999 Borleske Stadium
Richland

Bombers

21

Walla Walla

Blue Devils

42

Head Coach: Lonnie Pierson
1998
Walla Walla

Blue Devils

27

Richland

Bombers

14

Head Coach: Lonnie Pierson
1997
Walla Walla

Blue Devils

10

Richland

Bombers

14

Head Coach: Lonnie Pierson
1996
Walla Walla

Blue Devils

21

Richland

Bombers

16

Head Coach: Lonnie Pierson
1995
Walla Walla

Blue Devils

36

Richland

Bombers

20

Head Coach: Lonnie Pierson
1994
Walla Walla

Blue Devils

30

Richland

Bombers

14

Head Coach: Lonnie Pierson
1994 Fran Rish Stadium
Class "AAA" State Playoffs Quarterfinals; 500th Richland Bomber Football Game

Walla Walla

Blue Devils

14

Richland

Bombers

0

Head Coach: Lonnie Pierson
1993
Walla Walla

Blue Devils

24

Richland

Bombers

21

Head Coach: Lonnie Pierson
1992
Walla Walla

Blue Devils

14

Richland

Bombers

7

Head Coach: Lonnie Pierson
1991
Walla Walla

Blue Devils

8

Richland

Bombers

24

Head Coach: Lonnie Pierson
1990
Walla Walla

Blue Devils

14

Richland

Bombers

38

Head Coach: Lonnie Pierson
1989
Walla Walla

Blue Devils

6

Richland

Bombers

35

Head Coach: Lonnie Pierson
1988
Walla Walla

Blue Devils

7

Richland

Bombers

12

Head Coach: Lonnie Pierson
1987
Walla Walla

Blue Devils

14

Richland

Bombers

26

Head Coach: Lonnie Pierson
1986
Walla Walla

Blue Devils

7

Richland

Bombers

10

Head Coach: Lonnie Pierson
1985
Walla Walla

Blue Devils

21

Richland

Bombers

24

Head Coach: JD Covington
1984
Walla Walla

Blue Devils

19

Richland

Bombers

15

Head Coach: JD Covington
1983
Walla Walla

Blue Devils

14

Richland

Bombers

7

Head Coach: JD Covington
1982
Walla Walla

Blue Devils

42

Richland

Bombers

0

Head Coach: JD Covington
1981
Walla Walla

Blue Devils

12

Richland

Bombers

39

Head Coach: JD Covington
Friday October 17, 1980 Bomber Bowl
Walla Walla

Blue Devils

7

Richland

Bombers

33

Head Coach: JD Covington
1979
Walla Walla

Blue Devils

21

Richland

Bombers

12

Head Coach: JD Covington
1978
Walla Walla

Blue Devils

20

Richland

Bombers

42

Head Coach: JD Covington
1977
Walla Walla

Blue Devils

0

Richland

Bombers

14

Head Coach: JD Covington
1976
Walla Walla

Blue Devils

9

Richland

Bombers

7

Head Coach: JD Covington
1975
Walla Walla

Blue Devils

19

Richland

Bombers

41

Head Coach: JD Covington
1974
Walla Walla

Blue Devils

8

Richland

Bombers

27

Head Coach: JD Covington
1973
Walla Walla

Blue Devils

35

Richland

Bombers

14

Head Coach: JD Covington
Friday November 10, 1972 Bomber Bowl
Walla Walla

Blue Devils

6

Richland

Bombers

28

Head Coach: JD Covington
Friday November 12, 1971 Borleske Stadium
Richland

Bombers

0

Walla Walla

Blue Devils

19

Head Coach: JD Covington
1970
Jamboree

Walla Walla

Blue Devils

26

Richland

Bombers

6

Head Coach: George Rallis
1970
Walla Walla

Blue Devils

33

Richland

Bombers

7

Head Coach: George Rallis
1969
Walla Walla

Blue Devils

28

Richland

Bombers

6

Head Coach: George Rallis
1968
Jamboree

Walla Walla

Blue Devils

6

Richland

Bombers

0

Head Coach: George Rallis
1968
Walla Walla

Blue Devils

28

Richland

Bombers

6

Head Coach: George Rallis
1967
Walla Walla

Blue Devils

23

Richland

Bombers

14

Head Coach: George Rallis
1967
Walla Walla

Blue Devils

26

Richland

Bombers

0

Head Coach: George Rallis
1966 Borleske Stadium
Richland

Bombers

0

Walla Walla

Blue Devils

14

Head Coach: Fran Rish
1966 Fran Rish Stadium
Walla Walla

Blue Devils

20

Richland

Bombers

0

Head Coach: Fran Rish
1965
Walla Walla

Blue Devils

20

Richland

Bombers

13

Head Coach: Fran Rish
1965
Walla Walla

Blue Devils

21

Richland

Bombers

7

Head Coach: Fran Rish
1964
Walla Walla

Blue Devils

12

Richland

Bombers

6

Head Coach: Fran Rish
1964
Walla Walla

Blue Devils

21

Richland

Bombers

6

Head Coach: Fran Rish
Friday November 8, 1963 Borleske Stadium
Richland

Bombers

7

Walla Walla

Blue Devils

14

Head Coach: Fran Rish
1962
Walla Walla

Blue Devils

0

Richland

Bombers

7

Head Coach: Fran Rish
1961
Walla Walla

Blue Devils

7

Richland

Bombers

26

Head Coach: Fran Rish
1960
Walla Walla

Blue Devils

39

Richland

Bombers

18

Head Coach: Fran Rish
1959
Walla Walla

Blue Devils

13

Richland

Bombers

6

Head Coach: Fran Rish
1958
Walla Walla

Blue Devils

27

Richland

Bombers

0

Head Coach: Fran Rish
1957 Bomber Bowl
Walla Walla

Blue Devils

0

Richland

Bombers

20

Head Coach: Fran Rish
1957 Borleske Stadium
Richland

Bombers

12

Walla Walla

Blue Devils

12

Head Coach: Fran Rish
Friday October 5, 1956 Borleske Stadium
Richland

Bombers

21

Walla Walla

Blue Devils

28

Head Coach: Fran Rish
1955
Walla Walla

Blue Devils

20

Richland

Bombers

6

Head Coach: Fran Rish
1955
Walla Walla

Blue Devils

0

Richland

Bombers

13

Head Coach: Fran Rish
1954
Walla Walla

Blue Devils

6

Richland

Bombers

0

Head Coach: Fran Rish
1954
Walla Walla

Blue Devils

7

Richland

Bombers

0

Head Coach: Fran Rish
1953
Walla Walla

Blue Devils

7

Richland

Bombers

7

Head Coach: Fran Rish
Friday October 10, 1952 Borleske Stadium
Richland

Bombers

7

Walla Walla

Blue Devils

28

Head Coach: Fran Rish
Friday October 12, 1951 Bomber Bowl
Record Crowd of 6,700 at Bomber Bowl

Walla Walla

Blue Devils

19

Richland

Bombers

14

Head Coach: Fran Rish
Saturday October 14, 1950 Borleske Stadium
Richland

Bombers

6

Walla Walla

Blue Devils

21

Head Coach: Fran Rish
Friday October 4, 1946 Bomber Bowl
Walla Walla

Blue Devils

7

Richland

Bombers

0

Head Coach: Fran Rish
Friday October 5, 1945 Borleske Stadium
Richland

Bombers

0

Walla Walla

Blue Devils

21

Head Coach: Fred Littau
Walla Walla High School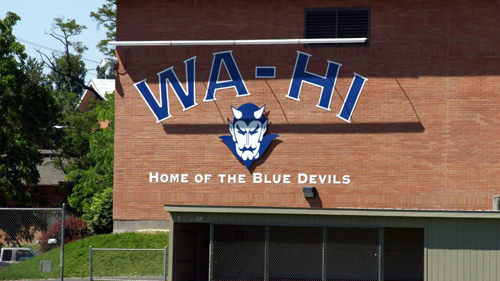 Walla Walla High School

800 Abbott Road
Walla Walla , WA
Mascot: Blue Devils
Bombers v. Blue Devils

Games

Bombers

Blue Devils

Wins

32

926

355

Losses

47

421

1,073

Ties

2

19

19

Overall

81

1,366

1,447
Records by Head Coach

Wins

Losses

Ties

Mike Neidhold

10

3

0

JD Covington

8

7

0

Lonnie Pierson

8

10

0

Fran Rish

4

18

2

Garrick Redden

2

1

0

Fred Littau

0

1

0

George Rallis

0

7

0
Borleske Stadium