Game 5: Walla Walla 34, Richland 0
2014 GAME 5: Friday October 3, 2014

Game Recap October 3, 2014
The Richland Bombers were hoping to keep up the momentum from last week's win over Hanford, but the Walla Walla defense had other ideas as the Blue Devil's throttled the Bombers 34-0.
The Blue Devil defense held the Bomber offense to 91 yards total, only letting them cross the 50 yard line three times in the game.
This was the biggest win over Richland since a 42-0 win in 1982.
Hopefully the boys in green can get back on track when the Kennewick Lions visit Fran Rish Stadium next Friday night at 7:00PM.
Tri-City Herald; Walla Walla scores big win over Bombers
Go Bombers!
October 3, 2014

1

2

3

4

Final

Richland

0

Walla Walla Blue Devils

34
Walla Walla Blue Devils
Blue Devils v. Bombers History
Friday October 14, 2022 Borleske Stadium
Richland

Bombers

Walla Walla

Blue Devils

Head Coach: Mike Neidhold
Friday October 15, 2021 Borleske Stadium
Richland

Bombers

49

Walla Walla

Blue Devils

27

Head Coach: Mike Neidhold
Friday October 4, 2019 Fran Rish Stadium
Walla Walla

Blue Devils

35

Richland

Bombers

28

Head Coach: Mike Neidhold
Friday September 28, 2018 Borleske Stadium
Richland

Bombers

35

Walla Walla

Blue Devils

14

Head Coach: Mike Neidhold
Friday October 13, 2017 Borleske Stadium
Richland

Bombers

39

Walla Walla

Blue Devils

6

Head Coach: Mike Neidhold
Friday October 14, 2016 Fran Rish Stadium
Walla Walla

Blue Devils

14

Richland

Bombers

64

Head Coach: Mike Neidhold
Friday October 2, 2015 Fran Rish Stadium
Walla Walla

Blue Devils

19

Richland

Bombers

31

Head Coach: Mike Neidhold
Friday October 3, 2014 Borleske Stadium
Richland

0

Walla Walla

Blue Devils

34

Head Coach: Mike Neidhold
Friday September 13, 2013 Fran Rish Stadium
Walla Walla

Blue Devils

6

Richland

Bombers

21

Head Coach: Mike Neidhold
Friday September 7, 2012 Borleske Stadium
Richland

Bombers

26

Walla Walla

Blue Devils

20

Head Coach: Mike Neidhold
Friday October 14, 2011 Borleske Stadium
Richland

Bombers

31

Walla Walla

Blue Devils

15

Head Coach: Mike Neidhold
Friday October 15, 2010 Fran Rish Stadium
Walla Walla

Blue Devils

7

Richland

Bombers

34

Head Coach: Mike Neidhold
Friday October 23, 2009 Borleske Stadium
Richland

Bombers

21

Walla Walla

Blue Devils

35

Head Coach: Mike Neidhold
Thursday October 23, 2008 Fran Rish Stadium
Walla Walla

Blue Devils

19

Richland

Bombers

34

Head Coach: Mike Neidhold
Friday September 14, 2007 Fran Rish Stadium
Walla Walla

Blue Devils

14

Richland

Bombers

28

Head Coach: Garrick Redden
Friday September 15, 2006 Borleske Stadium
Richland

Bombers

16

Walla Walla

Blue Devils

7

Head Coach: Garrick Redden
Friday October 28, 2005 Borleske Stadium
Richland

Bombers

14

Walla Walla

Blue Devils

19

Head Coach: Garrick Redden
Friday October 29, 2004 Fran Rish Stadium
Walla Walla

Blue Devils

41

Richland

Bombers

34

Head Coach: Lonnie Pierson
Thursday November 1, 2001 Fran Rish Stadium
Walla Walla

Blue Devils

14

Richland

Bombers

0

Head Coach: Lonnie Pierson
Friday September 29, 2000 Fran Rish Stadium
Walla Walla

Blue Devils

21

Richland

Bombers

45

Head Coach: Lonnie Pierson
Friday October 1, 1999 Borleske Stadium
Richland

Bombers

21

Walla Walla

Blue Devils

42

Head Coach: Lonnie Pierson
1998
Walla Walla

Blue Devils

27

Richland

Bombers

14

Head Coach: Lonnie Pierson
1997
Walla Walla

Blue Devils

10

Richland

Bombers

14

Head Coach: Lonnie Pierson
1996
Walla Walla

Blue Devils

21

Richland

Bombers

16

Head Coach: Lonnie Pierson
1995
Walla Walla

Blue Devils

36

Richland

Bombers

20

Head Coach: Lonnie Pierson
1994
Walla Walla

Blue Devils

30

Richland

Bombers

14

Head Coach: Lonnie Pierson
1994 Fran Rish Stadium
Class "AAA" State Playoffs Quarterfinals; 500th Richland Bomber Football Game

Walla Walla

Blue Devils

14

Richland

Bombers

0

Head Coach: Lonnie Pierson
1993
Walla Walla

Blue Devils

24

Richland

Bombers

21

Head Coach: Lonnie Pierson
1992
Walla Walla

Blue Devils

14

Richland

Bombers

7

Head Coach: Lonnie Pierson
1991
Walla Walla

Blue Devils

8

Richland

Bombers

24

Head Coach: Lonnie Pierson
1990
Walla Walla

Blue Devils

14

Richland

Bombers

38

Head Coach: Lonnie Pierson
1989
Walla Walla

Blue Devils

6

Richland

Bombers

35

Head Coach: Lonnie Pierson
1988
Walla Walla

Blue Devils

7

Richland

Bombers

12

Head Coach: Lonnie Pierson
1987
Walla Walla

Blue Devils

14

Richland

Bombers

26

Head Coach: Lonnie Pierson
1986
Walla Walla

Blue Devils

7

Richland

Bombers

10

Head Coach: Lonnie Pierson
1985
Walla Walla

Blue Devils

21

Richland

Bombers

24

Head Coach: JD Covington
1984
Walla Walla

Blue Devils

19

Richland

Bombers

15

Head Coach: JD Covington
1983
Walla Walla

Blue Devils

14

Richland

Bombers

7

Head Coach: JD Covington
1982
Walla Walla

Blue Devils

42

Richland

Bombers

0

Head Coach: JD Covington
1981
Walla Walla

Blue Devils

12

Richland

Bombers

39

Head Coach: JD Covington
Friday October 17, 1980 Bomber Bowl
Walla Walla

Blue Devils

7

Richland

Bombers

33

Head Coach: JD Covington
1979
Walla Walla

Blue Devils

21

Richland

Bombers

12

Head Coach: JD Covington
1978
Walla Walla

Blue Devils

20

Richland

Bombers

42

Head Coach: JD Covington
1977
Walla Walla

Blue Devils

0

Richland

Bombers

14

Head Coach: JD Covington
1976
Walla Walla

Blue Devils

9

Richland

Bombers

7

Head Coach: JD Covington
1975
Walla Walla

Blue Devils

19

Richland

Bombers

41

Head Coach: JD Covington
1974
Walla Walla

Blue Devils

8

Richland

Bombers

27

Head Coach: JD Covington
1973
Walla Walla

Blue Devils

35

Richland

Bombers

14

Head Coach: JD Covington
Friday November 10, 1972 Bomber Bowl
Walla Walla

Blue Devils

6

Richland

Bombers

28

Head Coach: JD Covington
Friday November 12, 1971 Borleske Stadium
Richland

Bombers

0

Walla Walla

Blue Devils

19

Head Coach: JD Covington
1970
Jamboree

Walla Walla

Blue Devils

26

Richland

Bombers

6

Head Coach: George Rallis
1970
Walla Walla

Blue Devils

33

Richland

Bombers

7

Head Coach: George Rallis
1969
Walla Walla

Blue Devils

28

Richland

Bombers

6

Head Coach: George Rallis
1968
Jamboree

Walla Walla

Blue Devils

6

Richland

Bombers

0

Head Coach: George Rallis
1968
Walla Walla

Blue Devils

28

Richland

Bombers

6

Head Coach: George Rallis
1967
Walla Walla

Blue Devils

23

Richland

Bombers

14

Head Coach: George Rallis
1967
Walla Walla

Blue Devils

26

Richland

Bombers

0

Head Coach: George Rallis
1966 Borleske Stadium
Richland

Bombers

0

Walla Walla

Blue Devils

14

Head Coach: Fran Rish
1966 Fran Rish Stadium
Walla Walla

Blue Devils

20

Richland

Bombers

0

Head Coach: Fran Rish
1965
Walla Walla

Blue Devils

20

Richland

Bombers

13

Head Coach: Fran Rish
1965
Walla Walla

Blue Devils

21

Richland

Bombers

7

Head Coach: Fran Rish
1964
Walla Walla

Blue Devils

12

Richland

Bombers

6

Head Coach: Fran Rish
1964
Walla Walla

Blue Devils

21

Richland

Bombers

6

Head Coach: Fran Rish
Friday November 8, 1963 Borleske Stadium
Richland

Bombers

7

Walla Walla

Blue Devils

14

Head Coach: Fran Rish
1962
Walla Walla

Blue Devils

0

Richland

Bombers

7

Head Coach: Fran Rish
1961
Walla Walla

Blue Devils

7

Richland

Bombers

26

Head Coach: Fran Rish
1960
Walla Walla

Blue Devils

39

Richland

Bombers

18

Head Coach: Fran Rish
1959
Walla Walla

Blue Devils

13

Richland

Bombers

6

Head Coach: Fran Rish
1958
Walla Walla

Blue Devils

27

Richland

Bombers

0

Head Coach: Fran Rish
1957 Bomber Bowl
Walla Walla

Blue Devils

0

Richland

Bombers

20

Head Coach: Fran Rish
1957 Borleske Stadium
Richland

Bombers

12

Walla Walla

Blue Devils

12

Head Coach: Fran Rish
Friday October 5, 1956 Borleske Stadium
Richland

Bombers

21

Walla Walla

Blue Devils

28

Head Coach: Fran Rish
1955
Walla Walla

Blue Devils

20

Richland

Bombers

6

Head Coach: Fran Rish
1955
Walla Walla

Blue Devils

0

Richland

Bombers

13

Head Coach: Fran Rish
1954
Walla Walla

Blue Devils

6

Richland

Bombers

0

Head Coach: Fran Rish
1954
Walla Walla

Blue Devils

7

Richland

Bombers

0

Head Coach: Fran Rish
1953
Walla Walla

Blue Devils

7

Richland

Bombers

7

Head Coach: Fran Rish
Friday October 10, 1952 Borleske Stadium
Richland

Bombers

7

Walla Walla

Blue Devils

28

Head Coach: Fran Rish
Friday October 12, 1951 Bomber Bowl
Record Crowd of 6,700 at Bomber Bowl

Walla Walla

Blue Devils

19

Richland

Bombers

14

Head Coach: Fran Rish
Saturday October 14, 1950 Borleske Stadium
Richland

Bombers

6

Walla Walla

Blue Devils

21

Head Coach: Fran Rish
Friday October 4, 1946 Bomber Bowl
Walla Walla

Blue Devils

7

Richland

Bombers

0

Head Coach: Fran Rish
Friday October 5, 1945 Borleske Stadium
Richland

Bombers

0

Walla Walla

Blue Devils

21

Head Coach: Fred Littau
Walla Walla High School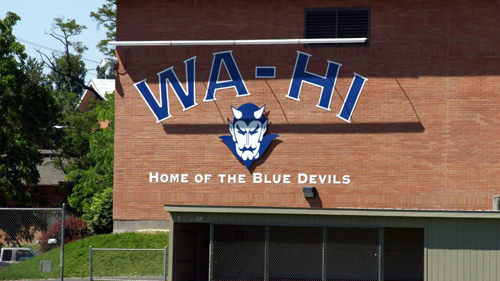 Walla Walla High School

800 Abbott Road
Walla Walla , WA
Mascot: Blue Devils
Bombers v. Blue Devils

Games

Bombers

Blue Devils

Wins

32

926

355

Losses

47

421

1,073

Ties

2

19

19

Overall

81

1,366

1,447
Records by Head Coach

Wins

Losses

Ties

Mike Neidhold

10

3

0

JD Covington

8

7

0

Lonnie Pierson

8

10

0

Fran Rish

4

18

2

Garrick Redden

2

1

0

Fred Littau

0

1

0

George Rallis

0

7

0
Borleske Stadium