2010 Bomber Football
Friday September 10, 2010

Game 2: Richland 38, Hanford 0
200TH BOMBER VICTORY AT FRAN RISH STADIUM
2010 GAME 2: Friday September 10, 2010

Game Recap September 11, 2010
As noted previously, I wasn't able to go to the game tonight but I just found out the score and the Richland Bombers prevailed over the Hanford Falcons 38-0.
I will update this post as I get more information.
Update:The Tri-City Herald has a writeup of the game at Sports Tri-Cities.
Go Bombers!
September 10, 2010

1

2

3

4

Final

Hanford Falcons

0

Richland Bombers

38
Hanford Falcons
Falcons v. Bombers History
Friday September 16, 2022 Fran Rish Stadium
Hanford

Falcons

Richland

Bombers

Head Coach: Mike Neidhold
Friday September 10, 2021 Fran Rish Stadium
Mike Neidhold's 100th Victory

Richland

Bombers

51

Hanford

Falcons

0

Head Coach: Mike Neidhold
Thursday March 25, 2021 Fran Rish Stadium
Richland

Bombers

41

Hanford

Falcons

7

Head Coach: Mike Neidhold
Friday November 1, 2019 Fran Rish Stadium
Hanford

Falcons

34

Richland

Bombers

28

Head Coach: Mike Neidhold
Friday October 26, 2018 Fran Rish Stadium
Richland

Bombers

34

Hanford

Falcons

24

Head Coach: Mike Neidhold
Friday October 27, 2017 Fran Rish Stadium
Richland

Bombers

50

Hanford

Falcons

0

Head Coach: Mike Neidhold
Friday October 28, 2016 Fran Rish Stadium
Senior Night 2016

Hanford

Falcons

7

Richland

Bombers

49

Head Coach: Mike Neidhold
Friday September 25, 2015 Fran Rish Stadium
Hanford

Falcons

7

Richland

Bombers

45

Head Coach: Mike Neidhold
Friday September 26, 2014 Fran Rish Stadium
Hanford

Falcons

12

Richland

Bombers

42

Head Coach: Mike Neidhold
Friday October 25, 2013 Fran Rish Stadium
Homecoming

Hanford

Falcons

7

Richland

Bombers

28

Head Coach: Mike Neidhold
Friday October 19, 2012 Fran Rish Stadium
Hanford

Falcons

31

Richland

Bombers

14

Head Coach: Mike Neidhold
Friday September 9, 2011 Fran Rish Stadium
Hanford

Falcons

21

Richland

Bombers

35

Head Coach: Mike Neidhold
Friday September 10, 2010 Fran Rish Stadium
200th Bomber Victory at Fran Rish Stadium

Hanford

Falcons

0

Richland

Bombers

38

Head Coach: Mike Neidhold
Friday October 2, 2009 Fran Rish Stadium
Hanford

Falcons

14

Richland

Bombers

24

Head Coach: Mike Neidhold
Friday October 3, 2008 Fran Rish Stadium
Hanford

Falcons

20

Richland

Bombers

21

Head Coach: Mike Neidhold
Friday October 5, 2007 Fran Rish Stadium
Hanford

Falcons

0

Richland

Bombers

19

Head Coach: Garrick Redden
Friday October 6, 2006 Fran Rish Stadium
Richland

Bombers

25

Hanford

Falcons

13

Head Coach: Garrick Redden
1997
Hanford

Falcons

7

Richland

Bombers

21

Head Coach: Lonnie Pierson
Hanford High School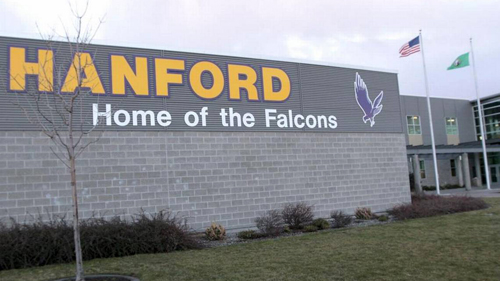 Hanford High School

450 Hanford Street
Richland, WA
Mascot: Falcons
Bombers v. Falcons

Games

Bombers

Falcons

Wins

15

523

139

Losses

2

42

65

Overall

17

565

204
Records by Head Coach

Wins

Losses

Ties

Mike Neidhold

12

2

0

Garrick Redden

2

0

0

Lonnie Pierson

1

0

0
Fran Rish Stadium