Wenatchee Panthers 40, Richland Bombers 7
BIG NINE CROSSOVER SERIES
2009 GAME 9: Friday October 30, 2009

Game Recap October 31, 2009
The Richland Bombers took one on the chin tonight at The Apple Bowl in Wenatchee as the Panthers turned out to be inhospitable hosts in a 40-7 blowout.
The Bombers started out very strong and it looked like they had shaken whatever virus they caught in the fourth quarter of the Walla Walla game. After quickly shutting down the vaunted Panther running game in the first drive, the Richland offense fired every engine. Jake McKinney was driving through the Wenatchee defense like his feet were on rails and the team had a swagger as they moved down the field. All that changed, though, when Jake lost the ball on the Wenatchee 12 yard line.
The Bombers were still formidable on defense and held the Panthers on the next drive, forcing them to punt at the Richland 45. The punt was a thing of beauty as it bounced at the ten yard line and took an immediate 45 degreen turn and headed right for the one-half yard line. On the very next play from scrimmage, the Wenatchee defense caught McKinney in the end zone for a safety and a 2-0 lead. Then it got ugly.Coyote ugly, or in this case, Panther ugly.
The Panthers proceeded to score on 4 of their next five drives and scored at will. A 24 yard run by Jacob Selby, a 15 yard touchdown pass from Cam Hoey to Blair Dorn, a 51 yard run by Dorn, and capping the first half with another Hoey touchdown pass. The Bombers went quietly into halftime down by 30 points.
Richland came out for the second half and seemed determined to show the Apple Bowl crowd that they were not going down quietly. Once again, the Bombers engineered a 75 yard drive in eight plays including 28 yard and 14 yard catches by Elijah Gardaya and runs of 16 and 14 yards by Jake McKinney. Jake finished off the drive with a 1 yard touchdown drive and a glimmer of hope starting peeking over the horizon. If Wenatchee can score 30 points in a half, why can't the Bombers score 31?
Wenatchee answered that question quickly and emphatically with a 67 yard drive of their own capped off by a 13 yard pass from Hoey to Lucas Sealby to make it Panthers 37, Bombers 7. The Panthers did score once more late in the game when they decided to give their kicker, Angel Guerra some practice from 44 yards out.
For the Bombers, it was the end of their playoff dreams, but not the end of their season. According to my sources, the Bombers will have a home game next Friday night, November 6 against a yet-to-be-determined opponent from the Greater Spokane League. Apparently they are going to have a three-way playoff to determine their last seed in the state playoffs. I will update the entries as soon as they clear up.
Go Bombers!
October 30, 2009

1

2

3

4

Final

Richland Bombers

7

Wenatchee Panthers

40
Wenatchee Panthers
Panthers v. Bombers History
Friday September 8, 2017 Fran Rish Stadium
Wenatchee

Panthers

8

Richland

Bombers

56

Head Coach: Mike Neidhold
Friday September 9, 2016 The Apple Bowl
Richland

Bombers

40

Wenatchee

Panthers

12

Head Coach: Mike Neidhold
Friday October 7, 2011 The Apple Bowl
Richland

Bombers

24

Wenatchee

Panthers

0

Head Coach: Mike Neidhold
Friday October 8, 2010 Fran Rish Stadium
Wenatchee

Panthers

19

Richland

Bombers

31

Head Coach: Mike Neidhold
Friday October 30, 2009 The Apple Bowl
Big Nine Crossover Series

Richland

Bombers

7

Wenatchee

Panthers

40

Head Coach: Mike Neidhold
Friday October 31, 2008 Fran Rish Stadium
Big Nine Playoffs

Wenatchee

Panthers

6

Richland

Bombers

14

Head Coach: Mike Neidhold
Friday September 28, 2007 Fran Rish Stadium
Wenatchee

Panthers

35

Richland

Bombers

28

Head Coach: Garrick Redden
Friday September 29, 2006 The Apple Bowl
Richland

Bombers

26

Wenatchee

Panthers

7

Head Coach: Garrick Redden
Friday September 23, 2005 The Apple Bowl
Richland

Bombers

14

Wenatchee

Panthers

27

Head Coach: Garrick Redden
Friday September 24, 2004 Fran Rish Stadium
Wenatchee

Panthers

28

Richland

Bombers

22

Head Coach: Lonnie Pierson
Friday October 31, 2003 The Apple Bowl
Richland

Bombers

28

Wenatchee

Panthers

14

Head Coach: Lonnie Pierson
Friday November 1, 2002 Fran Rish Stadium
Wenatchee

Panthers

19

Richland

Bombers

21

Head Coach: Lonnie Pierson
Friday October 5, 2001 Fran Rish Stadium
Wenatchee

Panthers

21

Richland

Bombers

20

Head Coach: Lonnie Pierson
Friday October 6, 2000 The Apple Bowl
Richland

Bombers

35

Wenatchee

Panthers

28

Head Coach: Lonnie Pierson
Friday October 8, 1999 Fran Rish Stadium
Wenatchee

Panthers

7

Richland

Bombers

24

Head Coach: Lonnie Pierson
1998
Wenatchee

Panthers

31

Richland

Bombers

14

Head Coach: Lonnie Pierson
1997
Wenatchee

Panthers

24

Richland

Bombers

20

Head Coach: Lonnie Pierson
1996
Wenatchee

Panthers

6

Richland

Bombers

44

Head Coach: Lonnie Pierson
1995
Wenatchee

Panthers

4

Richland

Bombers

27

Head Coach: Lonnie Pierson
1994
Wenatchee

Panthers

0

Richland

Bombers

37

Head Coach: Lonnie Pierson
1993
Wenatchee

Panthers

6

Richland

Bombers

30

Head Coach: Lonnie Pierson
1992
Wenatchee

Panthers

6

Richland

Bombers

32

Head Coach: Lonnie Pierson
1991
Wenatchee

Panthers

10

Richland

Bombers

13

Head Coach: Lonnie Pierson
1990
Wenatchee

Panthers

7

Richland

Bombers

45

Head Coach: Lonnie Pierson
1989
Wenatchee

Panthers

12

Richland

Bombers

39

Head Coach: Lonnie Pierson
1988
Wenatchee

Panthers

14

Richland

Bombers

34

Head Coach: Lonnie Pierson
1987
Wenatchee

Panthers

7

Richland

Bombers

28

Head Coach: Lonnie Pierson
1986
Wenatchee

Panthers

10

Richland

Bombers

14

Head Coach: Lonnie Pierson
1985
Wenatchee

Panthers

6

Richland

Bombers

41

Head Coach: JD Covington
1984
Wenatchee

Panthers

6

Richland

Bombers

19

Head Coach: JD Covington
1983
Wenatchee

Panthers

8

Richland

Bombers

36

Head Coach: JD Covington
1982
Wenatchee

Panthers

6

Richland

Bombers

0

Head Coach: JD Covington
1981
Wenatchee

Panthers

0

Richland

Bombers

20

Head Coach: JD Covington
Friday October 3, 1980 Bomber Bowl
Wenatchee

Panthers

7

Richland

Bombers

0

Head Coach: JD Covington
1979
Wenatchee

Panthers

7

Richland

Bombers

13

Head Coach: JD Covington
1978
Wenatchee

Panthers

14

Richland

Bombers

21

Head Coach: JD Covington
1977
Wenatchee

Panthers

0

Richland

Bombers

19

Head Coach: JD Covington
1976
Wenatchee

Panthers

13

Richland

Bombers

27

Head Coach: JD Covington
1975
Wenatchee

Panthers

7

Richland

Bombers

14

Head Coach: JD Covington
1974 Bomber Bowl
300th Richland Bomber Football Game

Wenatchee

Panthers

17

Richland

Bombers

8

Head Coach: JD Covington
1973
Wenatchee

Panthers

23

Richland

Bombers

0

Head Coach: JD Covington
Friday November 3, 1972 Bomber Bowl
Wenatchee

Panthers

29

Richland

Bombers

6

Head Coach: JD Covington
Friday November 5, 1971 The Apple Bowl
Richland

Bombers

7

Wenatchee

Panthers

13

Head Coach: JD Covington
1970
Wenatchee

Panthers

34

Richland

Bombers

13

Head Coach: George Rallis
1969
Wenatchee

Panthers

42

Richland

Bombers

0

Head Coach: George Rallis
1968
Wenatchee

Panthers

7

Richland

Bombers

7

Head Coach: George Rallis
1967
Wenatchee

Panthers

34

Richland

Bombers

7

Head Coach: George Rallis
1966 Fran Rish Stadium
Wenatchee

Panthers

21

Richland

Bombers

6

Head Coach: Fran Rish
Friday September 27, 1963 The Apple Bowl
Richland

Bombers

19

Wenatchee

Panthers

7

Head Coach: Fran Rish
1962
Wenatchee

Panthers

32

Richland

Bombers

14

Head Coach: Fran Rish
1959
Wenatchee

Panthers

12

Richland

Bombers

0

Head Coach: Fran Rish
1958
Wenatchee

Panthers

20

Richland

Bombers

0

Head Coach: Fran Rish
1957 The Apple Bowl
Richland

Bombers

6

Wenatchee

Panthers

15

Head Coach: Fran Rish
Friday October 19, 1956 Bomber Bowl
Wenatchee

Panthers

14

Richland

Bombers

28

Head Coach: Fran Rish
1955
Wenatchee

Panthers

7

Richland

Bombers

13

Head Coach: Fran Rish
1954
Wenatchee

Panthers

0

Richland

Bombers

14

Head Coach: Fran Rish
1953
Wenatchee

Panthers

0

Richland

Bombers

7

Head Coach: Fran Rish
Friday November 7, 1952 Bomber Bowl
Wenatchee

Panthers

0

Richland

Bombers

19

Head Coach: Fran Rish
Saturday November 10, 1951 The Apple Bowl
Richland

Bombers

7

Wenatchee

Panthers

6

Head Coach: Fran Rish
Friday September 15, 1950 Bomber Bowl
Wenatchee

Panthers

7

Richland

Bombers

25

Head Coach: Fran Rish
Friday September 16, 1949 The Apple Bowl
Richland

Bombers

6

Wenatchee

Panthers

0

Head Coach: Fran Rish
Friday September 17, 1948 Bomber Bowl
Wenatchee

Panthers

31

Richland

Bombers

12

Head Coach: Fran Rish
Wenatchee High School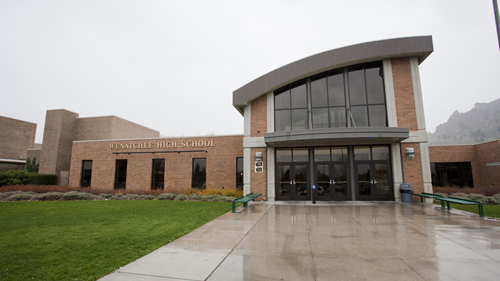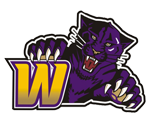 Wenatchee High School

1101 Millerdale Avenue
Wenatchee, WA
Mascot: Panthers
Bombers v. Panthers

Games

Bombers

Panthers

Wins

39

990

304

Losses

22

204

542

Ties

1

7

7

Overall

62

1,201

853
Records by Head Coach

Wins

Losses

Ties

Lonnie Pierson

15

4

0

Fran Rish

9

6

0

JD Covington

9

6

0

Mike Neidhold

5

1

0

Garrick Redden

1

2

0

George Rallis

0

3

1
The Apple Bowl