Richland 24, Hanford 14
2009 GAME 5: Friday October 2, 2009

Game Recap October 5, 2009
The Richland Bombers kept their record against crosstown rival Hanford clean for the moment. Hanford has always been an incredibly tough opponent, though.
Please read the game story on the Tri-City Herald.
I have returned home from my vacation at Disney World so I will have a game story to share after Friday night's battle against Big Nine newcomer Chiawana High School from Pasco. The school may be new but Chiawana's Coach Graff is definitely not. Please join us for the game on Friday night at Edgar Brown Stadium at 7:30 PM.
October 2, 2009

1

2

3

4

Final

Hanford Falcons

14

Richland Bombers

24
Hanford Falcons
Falcons v. Bombers History
Friday September 16, 2022 Fran Rish Stadium
Hanford

Falcons

Richland

Bombers

Head Coach: Mike Neidhold
Friday September 10, 2021 Fran Rish Stadium
Mike Neidhold's 100th Victory

Richland

Bombers

51

Hanford

Falcons

0

Head Coach: Mike Neidhold
Thursday March 25, 2021 Fran Rish Stadium
Richland

Bombers

41

Hanford

Falcons

7

Head Coach: Mike Neidhold
Friday November 1, 2019 Fran Rish Stadium
Hanford

Falcons

34

Richland

Bombers

28

Head Coach: Mike Neidhold
Friday October 26, 2018 Fran Rish Stadium
Richland

Bombers

34

Hanford

Falcons

24

Head Coach: Mike Neidhold
Friday October 27, 2017 Fran Rish Stadium
Richland

Bombers

50

Hanford

Falcons

0

Head Coach: Mike Neidhold
Friday October 28, 2016 Fran Rish Stadium
Senior Night 2016

Hanford

Falcons

7

Richland

Bombers

49

Head Coach: Mike Neidhold
Friday September 25, 2015 Fran Rish Stadium
Hanford

Falcons

7

Richland

Bombers

45

Head Coach: Mike Neidhold
Friday September 26, 2014 Fran Rish Stadium
Hanford

Falcons

12

Richland

Bombers

42

Head Coach: Mike Neidhold
Friday October 25, 2013 Fran Rish Stadium
Homecoming

Hanford

Falcons

7

Richland

Bombers

28

Head Coach: Mike Neidhold
Friday October 19, 2012 Fran Rish Stadium
Hanford

Falcons

31

Richland

Bombers

14

Head Coach: Mike Neidhold
Friday September 9, 2011 Fran Rish Stadium
Hanford

Falcons

21

Richland

Bombers

35

Head Coach: Mike Neidhold
Friday September 10, 2010 Fran Rish Stadium
200th Bomber Victory at Fran Rish Stadium

Hanford

Falcons

0

Richland

Bombers

38

Head Coach: Mike Neidhold
Friday October 2, 2009 Fran Rish Stadium
Hanford

Falcons

14

Richland

Bombers

24

Head Coach: Mike Neidhold
Friday October 3, 2008 Fran Rish Stadium
Hanford

Falcons

20

Richland

Bombers

21

Head Coach: Mike Neidhold
Friday October 5, 2007 Fran Rish Stadium
Hanford

Falcons

0

Richland

Bombers

19

Head Coach: Garrick Redden
Friday October 6, 2006 Fran Rish Stadium
Richland

Bombers

25

Hanford

Falcons

13

Head Coach: Garrick Redden
1997
Hanford

Falcons

7

Richland

Bombers

21

Head Coach: Lonnie Pierson
Hanford High School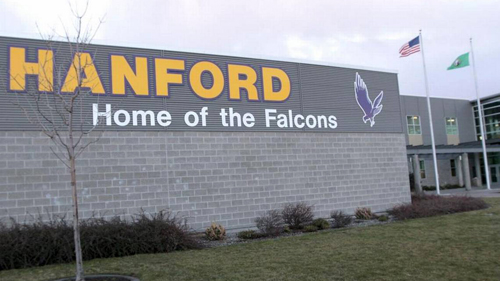 Hanford High School

450 Hanford Street
Richland, WA
Mascot: Falcons
Bombers v. Falcons

Games

Bombers

Falcons

Wins

15

523

139

Losses

2

42

65

Overall

17

565

204
Records by Head Coach

Wins

Losses

Ties

Mike Neidhold

12

2

0

Garrick Redden

2

0

0

Lonnie Pierson

1

0

0
Fran Rish Stadium