2008 Bomber Football
Thursday October 23, 2008

Richland 34, Walla Walla 19
2008 GAME 8: Thursday October 23, 2008

Game Recap October 24, 2008
The Cascade Conference championship was already in the bag and the Senior Bombers had given flowers to their mothers. You couldn't blame the Richland Bombers for wanting to get the game against the Walla Walla Blue Devils over with as soon as possible. One play was just about enough.
Hunter Olveda burst through the Blue Devil line on the first play from scrimmage and flew 69 yards for the touchdown. The only strange part of the play was seeing Jacob Moreno miss his first and only extra point of the year. Being a former Bomber kicker with a certain skill for going wide right, it brought a small tear to my eye.
After all that excitement, the rest of the first half was kind of boring. Walla Walla did narrow the score to 6-3 on a Conner Thorne 32 yard field goal, but the Bomber defense was dominant. The Blue Devils only sojourn into Richland territory was the product of an interception.
As if to bookend the entire half, Hayden Hilty hit Brett Jacobs with a pass to the 20 yard line. Jacobs then tossed the ball to Jamison Rowe who scampered for the last 20 and a 13-3 halftime lead.
The third quarter was all Richland. Jake McKinney had a 6 yard touchdown run, and Jamison Rowe caught a pass on the Richland 44 yard line and went on a tour of the Blue Devil defense that didn't end until he had greeted each player on his way to the end zone. If you haven't had a chance to see Jamison Rowe play football, basketball, or baseball, you'd better get a move on because some day he's going to be on the cover of Sports Illustrated. The Bombers finished off the scoring when Quinn Zorich hauled in a 3 yard touchdown pass from Hayden Hilty.
With the game well in hand, the rest of the fourth quarter was devoted to those senior players who haven't gotten much of a chance to get some time on the field. These players show up every day and work very hard and it was nice to see them play.
The regular season has now come to a close. The next phase of the season starts next Friday with the Big Nine Crossover games. The Bombers will play the number four team from the Columbia Conference. The game is set for Halloween night at Fran Rish Stadium at 7:30 pm. The opponent will be between Wenatchee, Moses Lake, or Kennewick so the Bombers have a lot of work as all three of those teams are capable of putting points on the board.
So, get your Trick-or-Treating done early next Friday night and scare up a couple ticket to the world's greatest show on turf!
Go Bombers!
October 23, 2008

1

2

3

4

Final

Walla Walla Blue Devils

19

Richland Bombers

34
Walla Walla Blue Devils
Blue Devils v. Bombers History
Friday October 13, 2023 Fran Rish Stadium
Walla Walla

Blue Devils

Richland

Bombers

Head Coach: Mike Neidhold
Friday October 14, 2022 Borleske Stadium
Richland

Bombers

42

Walla Walla

Blue Devils

0

Head Coach: Mike Neidhold
Friday October 15, 2021 Borleske Stadium
Richland

Bombers

49

Walla Walla

Blue Devils

27

Head Coach: Mike Neidhold
Friday October 4, 2019 Fran Rish Stadium
Walla Walla

Blue Devils

35

Richland

Bombers

28

Head Coach: Mike Neidhold
Friday September 28, 2018 Borleske Stadium
Richland

Bombers

35

Walla Walla

Blue Devils

14

Head Coach: Mike Neidhold
Friday October 13, 2017 Borleske Stadium
Richland

Bombers

39

Walla Walla

Blue Devils

6

Head Coach: Mike Neidhold
Friday October 14, 2016 Fran Rish Stadium
Walla Walla

Blue Devils

14

Richland

Bombers

64

Head Coach: Mike Neidhold
Friday October 2, 2015 Fran Rish Stadium
Walla Walla

Blue Devils

19

Richland

Bombers

31

Head Coach: Mike Neidhold
Friday October 3, 2014 Borleske Stadium
Richland

0

Walla Walla

Blue Devils

34

Head Coach: Mike Neidhold
Friday September 13, 2013 Fran Rish Stadium
Walla Walla

Blue Devils

6

Richland

Bombers

21

Head Coach: Mike Neidhold
Friday September 7, 2012 Borleske Stadium
Richland

Bombers

26

Walla Walla

Blue Devils

20

Head Coach: Mike Neidhold
Friday October 14, 2011 Borleske Stadium
Richland

Bombers

31

Walla Walla

Blue Devils

15

Head Coach: Mike Neidhold
Friday October 15, 2010 Fran Rish Stadium
Walla Walla

Blue Devils

7

Richland

Bombers

34

Head Coach: Mike Neidhold
Friday October 23, 2009 Borleske Stadium
Richland

Bombers

21

Walla Walla

Blue Devils

35

Head Coach: Mike Neidhold
Thursday October 23, 2008 Fran Rish Stadium
Walla Walla

Blue Devils

19

Richland

Bombers

34

Head Coach: Mike Neidhold
Friday September 14, 2007 Fran Rish Stadium
Walla Walla

Blue Devils

14

Richland

Bombers

28

Head Coach: Garrick Redden
Friday September 15, 2006 Borleske Stadium
Richland

Bombers

16

Walla Walla

Blue Devils

7

Head Coach: Garrick Redden
Friday October 28, 2005 Borleske Stadium
Richland

Bombers

14

Walla Walla

Blue Devils

19

Head Coach: Garrick Redden
Friday October 29, 2004 Fran Rish Stadium
Walla Walla

Blue Devils

41

Richland

Bombers

34

Head Coach: Lonnie Pierson
Thursday November 1, 2001 Fran Rish Stadium
Walla Walla

Blue Devils

14

Richland

Bombers

0

Head Coach: Lonnie Pierson
Friday September 29, 2000 Fran Rish Stadium
Walla Walla

Blue Devils

21

Richland

Bombers

45

Head Coach: Lonnie Pierson
Friday October 1, 1999 Borleske Stadium
Richland

Bombers

21

Walla Walla

Blue Devils

42

Head Coach: Lonnie Pierson
1998
Walla Walla

Blue Devils

27

Richland

Bombers

14

Head Coach: Lonnie Pierson
1997
Walla Walla

Blue Devils

10

Richland

Bombers

14

Head Coach: Lonnie Pierson
1996
Walla Walla

Blue Devils

21

Richland

Bombers

16

Head Coach: Lonnie Pierson
1995
Walla Walla

Blue Devils

36

Richland

Bombers

20

Head Coach: Lonnie Pierson
1994
Walla Walla

Blue Devils

30

Richland

Bombers

14

Head Coach: Lonnie Pierson
1994 Fran Rish Stadium
Class "AAA" State Playoffs Quarterfinals; 500th Richland Bomber Football Game

Walla Walla

Blue Devils

14

Richland

Bombers

0

Head Coach: Lonnie Pierson
1993
Walla Walla

Blue Devils

24

Richland

Bombers

21

Head Coach: Lonnie Pierson
1992
Walla Walla

Blue Devils

14

Richland

Bombers

7

Head Coach: Lonnie Pierson
1991
Walla Walla

Blue Devils

8

Richland

Bombers

24

Head Coach: Lonnie Pierson
1990
Walla Walla

Blue Devils

14

Richland

Bombers

38

Head Coach: Lonnie Pierson
1989
Walla Walla

Blue Devils

6

Richland

Bombers

35

Head Coach: Lonnie Pierson
1988
Walla Walla

Blue Devils

7

Richland

Bombers

12

Head Coach: Lonnie Pierson
1987
Walla Walla

Blue Devils

14

Richland

Bombers

26

Head Coach: Lonnie Pierson
1986
Walla Walla

Blue Devils

7

Richland

Bombers

10

Head Coach: Lonnie Pierson
1985
Walla Walla

Blue Devils

21

Richland

Bombers

24

Head Coach: JD Covington
1984
Walla Walla

Blue Devils

19

Richland

Bombers

15

Head Coach: JD Covington
1983
Walla Walla

Blue Devils

14

Richland

Bombers

7

Head Coach: JD Covington
1982
Walla Walla

Blue Devils

42

Richland

Bombers

0

Head Coach: JD Covington
1981
Walla Walla

Blue Devils

12

Richland

Bombers

39

Head Coach: JD Covington
Friday October 17, 1980 Bomber Bowl
Walla Walla

Blue Devils

7

Richland

Bombers

33

Head Coach: JD Covington
1979
Walla Walla

Blue Devils

21

Richland

Bombers

12

Head Coach: JD Covington
1978
Walla Walla

Blue Devils

20

Richland

Bombers

42

Head Coach: JD Covington
1977
Walla Walla

Blue Devils

0

Richland

Bombers

14

Head Coach: JD Covington
1976
Walla Walla

Blue Devils

9

Richland

Bombers

7

Head Coach: JD Covington
1975
Walla Walla

Blue Devils

19

Richland

Bombers

41

Head Coach: JD Covington
1974
Walla Walla

Blue Devils

8

Richland

Bombers

27

Head Coach: JD Covington
1973
Walla Walla

Blue Devils

35

Richland

Bombers

14

Head Coach: JD Covington
Friday November 10, 1972 Bomber Bowl
Walla Walla

Blue Devils

6

Richland

Bombers

28

Head Coach: JD Covington
Friday November 12, 1971 Borleske Stadium
Richland

Bombers

0

Walla Walla

Blue Devils

19

Head Coach: JD Covington
1970
Jamboree

Walla Walla

Blue Devils

26

Richland

Bombers

6

Head Coach: George Rallis
1970
Walla Walla

Blue Devils

33

Richland

Bombers

7

Head Coach: George Rallis
1969
Walla Walla

Blue Devils

28

Richland

Bombers

6

Head Coach: George Rallis
Friday September 13, 1968 Edgar Brown Memorial Stadium
Jamboree - Non Conference Game

Richland

Bombers

0

Walla Walla

Blue Devils

6

Head Coach: George Rallis
Friday November 8, 1968 Bomber Bowl
Walla Walla

Blue Devils

28

Richland

Bombers

6

Head Coach: George Rallis
Friday September 22, 1967 Bomber Bowl
Walla Walla

Blue Devils

23

Richland

Bombers

14

Head Coach: George Rallis
Friday November 10, 1967 Borleske Stadium
Richland

Bombers

0

Walla Walla

Blue Devils

26

Head Coach: George Rallis
1966 Borleske Stadium
Richland

Bombers

0

Walla Walla

Blue Devils

14

Head Coach: Fran Rish
1966 Fran Rish Stadium
Walla Walla

Blue Devils

20

Richland

Bombers

0

Head Coach: Fran Rish
1965
Walla Walla

Blue Devils

20

Richland

Bombers

13

Head Coach: Fran Rish
1965
Walla Walla

Blue Devils

21

Richland

Bombers

7

Head Coach: Fran Rish
1964
Walla Walla

Blue Devils

12

Richland

Bombers

6

Head Coach: Fran Rish
1964
Walla Walla

Blue Devils

21

Richland

Bombers

6

Head Coach: Fran Rish
Friday November 8, 1963 Borleske Stadium
Richland

Bombers

7

Walla Walla

Blue Devils

14

Head Coach: Fran Rish
1962
Walla Walla

Blue Devils

0

Richland

Bombers

7

Head Coach: Fran Rish
1961
Walla Walla

Blue Devils

7

Richland

Bombers

26

Head Coach: Fran Rish
1960
Walla Walla

Blue Devils

39

Richland

Bombers

18

Head Coach: Fran Rish
1959
Walla Walla

Blue Devils

13

Richland

Bombers

6

Head Coach: Fran Rish
1958
Walla Walla

Blue Devils

27

Richland

Bombers

0

Head Coach: Fran Rish
1957 Bomber Bowl
Walla Walla

Blue Devils

0

Richland

Bombers

20

Head Coach: Fran Rish
1957 Borleske Stadium
Richland

Bombers

12

Walla Walla

Blue Devils

12

Head Coach: Fran Rish
Friday October 5, 1956 Borleske Stadium
Richland

Bombers

21

Walla Walla

Blue Devils

28

Head Coach: Fran Rish
1955
Walla Walla

Blue Devils

20

Richland

Bombers

6

Head Coach: Fran Rish
1955
Walla Walla

Blue Devils

0

Richland

Bombers

13

Head Coach: Fran Rish
1954
Walla Walla

Blue Devils

6

Richland

Bombers

0

Head Coach: Fran Rish
Thursday November 11, 1954 Borleske Stadium
Richland

Bombers

0

Walla Walla

Blue Devils

7

Head Coach: Fran Rish
1953
Walla Walla

Blue Devils

7

Richland

Bombers

7

Head Coach: Fran Rish
Friday October 10, 1952 Borleske Stadium
Richland

Bombers

7

Walla Walla

Blue Devils

28

Head Coach: Fran Rish
Friday October 12, 1951 Bomber Bowl
Record Crowd of 6,700 at Bomber Bowl

Walla Walla

Blue Devils

19

Richland

Bombers

14

Head Coach: Fran Rish
Saturday October 14, 1950 Borleske Stadium
Richland

Bombers

6

Walla Walla

Blue Devils

21

Head Coach: Fran Rish
Friday October 4, 1946 Bomber Bowl
Walla Walla

Blue Devils

7

Richland

Bombers

0

Head Coach: Fran Rish
Friday October 5, 1945 Borleske Stadium
Richland

Bombers

0

Walla Walla

Blue Devils

21

Head Coach: Fred Littau
Walla Walla High School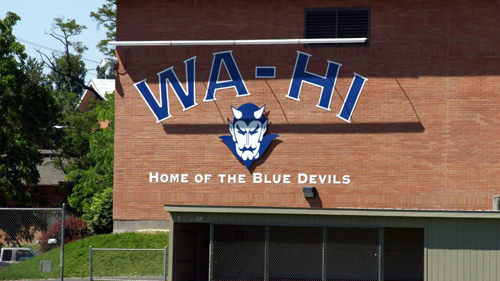 Walla Walla High School

800 Abbott Road
Walla Walla , WA
Mascot: Blue Devils
Bombers v. Blue Devils

Games

Bombers

Blue Devils

Wins

33

968

355

Losses

47

421

1,073

Ties

2

19

19

Overall

82

1,408

1,447
Records by Head Coach

Wins

Losses

Ties

Mike Neidhold

11

3

0

JD Covington

8

7

0

Lonnie Pierson

8

10

0

Fran Rish

4

18

2

Garrick Redden

2

1

0

Fred Littau

0

1

0

George Rallis

0

7

0
Borleske Stadium