Richland Answers Challenge
2006 GAME 6: Friday October 6, 2006

Game Recap May 18, 2022
Jeff Morrow; Herald sports editor
The young men of Richland and West Richland spent many of their early years playing against each other in Grid Kids and middle school football.
But over the course of the 34 years that Hanford and Richland high schools have co-existed in the same city, those same players have rarely ever gotten the chance to square off against each other.
On Friday night at Fran Rish Stadium, the two schools got together for just the second time for a neighborhood donnybrook - and the Bombers pulled away in the second half for a 25-13 nonleague victory.
"We were really pumped up," said Richland quarterback Nick Leid, who tossed three second-half touchdown passes. "We're pretty tight with those (Hanford) guys."
Hanford coach Rob Oram agreed.
"Our kids are friends with their kids," Oram said. "This loss hurts, in that respect."
But it took a newcomer to the neighborhood and a key play to turn the tide for the Bombers.
The newcomer, Marcelino Morales, darted every which way for 202 yards rushing - including 136 yards in the final two quarters.
The junior transfer from Pasco was bottled up in the first half by a stout Falcons defense, which led 7-0 at halftime thanks to Tyler Stark's 62-yard TD run on the game's first play.
"I was expecting (Hanford) to come out firing on all cylinders," said Morales. "But it was an eye-opener. It took us 24 minutes to wake up."
And it was Morales who set the alarm.
His 30-yard TD romp just 1:35 into the second half cut Hanford's lead to 7-6. His shifty moves kept the Falcons defense concentrated on him.
"Morales is a great player," said Oram. "He's the best running back I've seen."
Still, it was a key play the Bombers kept going to that seemed to put the game away.
It was a simple bootleg that Leid would run, in which he would start left, roll back to his right and wait for his tight end to get clear, and then he would hit him with a pass.
Once in the first half - and three times in the second half - when the Bombers needed some key yardage, they went to this play. And the Falcons couldn't stop it.
Later in the third quarter, Leid hit Jamie McCallum on a 4th-and-3 situation for a first down, then he found sophomore tight end Cody Shepherd for a 19-yard touchdown and a 12-7 lead.
"It's just a naked bootleg," said Leid. "The tight end shoves his guy inside, then releases outside."
And when Hanford concentrated on stopping the play in the fourth quarter, Leid looked off his tight end and found his secondary receiver, Garrett Sutherland, open for a 32-yard scoring strike to put the game away.
"We knew it would work," said Richland coach Garrick Redden, whose team is now 5-1. "I credit our assistant coaches. They wanted to keep it going with that play."
Which, in the end, was enough to win this game.
"I'm sick to my stomach," said Redden. "The bottom line was we didn't make the plays in the first half."
The Bombers did defensively. After Stark's opening-game run, the Bombers settled down and kept Hanford bogged down until late in the game when it didn't matter.
Ian Prichard led Richland with six tackles, a tight cover and a pass breakup; while teammate Joe Biddle added five tackles including one for a loss.
Hanford, which was led defensively by Logan Roehm's six tackles (one for a loss) and a quarterback hurry, just didn't have the numbers to stick with Richland.
"We don't have great depth," said Oram. "We fight as best as we can, but depth is a challenge for us this year."
The Falcons' next challenge will be to fend off the bragging-rights taunts their buddies in the green and gold will toss their way the over the next year.
October 6, 2006

1

2

3

4

Final

Richland Bombers

0

0

12

13

25

Hanford Falcons

7

0

0

6

13
1st Quarter

Touchdown: Tyler Stark 62 Yd Run (James Rogers Kick)
Hanford 7, Richland 0
3rd Quarter

Touchdown: Marcelino Morales 30 Yd Run (kick blocked)
Hanford 7, Richland 6

Touchdown: Cody Shepard 19 Yd Pass from Nick Leid (pass failed)
Richland 12, Hanford 7
4th Quarter

Touchdown: Garrett Sutherland 32 Yd Pass from Leid (pass failed)
Richland 18, Hanford 7

Touchdown: Shepard 26 Yd Pass from Leid (Leid kick)
Richland 25, Hanford 7

Touchdown: Thomas Kasza 65 Yd Pass from Trent Tyler (kick failed)
Richland 25, Hanford 13
Hanford Falcons
Falcons v. Bombers History
Friday September 16, 2022 Fran Rish Stadium
Hanford

Falcons

Richland

Bombers

Head Coach: Mike Neidhold
Friday September 10, 2021 Fran Rish Stadium
Mike Neidhold's 100th Victory

Richland

Bombers

51

Hanford

Falcons

0

Head Coach: Mike Neidhold
Thursday March 25, 2021 Fran Rish Stadium
Richland

Bombers

41

Hanford

Falcons

7

Head Coach: Mike Neidhold
Friday November 1, 2019 Fran Rish Stadium
Hanford

Falcons

34

Richland

Bombers

28

Head Coach: Mike Neidhold
Friday October 26, 2018 Fran Rish Stadium
Richland

Bombers

34

Hanford

Falcons

24

Head Coach: Mike Neidhold
Friday October 27, 2017 Fran Rish Stadium
Richland

Bombers

50

Hanford

Falcons

0

Head Coach: Mike Neidhold
Friday October 28, 2016 Fran Rish Stadium
Senior Night 2016

Hanford

Falcons

7

Richland

Bombers

49

Head Coach: Mike Neidhold
Friday September 25, 2015 Fran Rish Stadium
Hanford

Falcons

7

Richland

Bombers

45

Head Coach: Mike Neidhold
Friday September 26, 2014 Fran Rish Stadium
Hanford

Falcons

12

Richland

Bombers

42

Head Coach: Mike Neidhold
Friday October 25, 2013 Fran Rish Stadium
Homecoming

Hanford

Falcons

7

Richland

Bombers

28

Head Coach: Mike Neidhold
Friday October 19, 2012 Fran Rish Stadium
Hanford

Falcons

31

Richland

Bombers

14

Head Coach: Mike Neidhold
Friday September 9, 2011 Fran Rish Stadium
Hanford

Falcons

21

Richland

Bombers

35

Head Coach: Mike Neidhold
Friday September 10, 2010 Fran Rish Stadium
200th Bomber Victory at Fran Rish Stadium

Hanford

Falcons

0

Richland

Bombers

38

Head Coach: Mike Neidhold
Friday October 2, 2009 Fran Rish Stadium
Hanford

Falcons

14

Richland

Bombers

24

Head Coach: Mike Neidhold
Friday October 3, 2008 Fran Rish Stadium
Hanford

Falcons

20

Richland

Bombers

21

Head Coach: Mike Neidhold
Friday October 5, 2007 Fran Rish Stadium
Hanford

Falcons

0

Richland

Bombers

19

Head Coach: Garrick Redden
Friday October 6, 2006 Fran Rish Stadium
Richland

Bombers

25

Hanford

Falcons

13

Head Coach: Garrick Redden
1997
Hanford

Falcons

7

Richland

Bombers

21

Head Coach: Lonnie Pierson
Hanford High School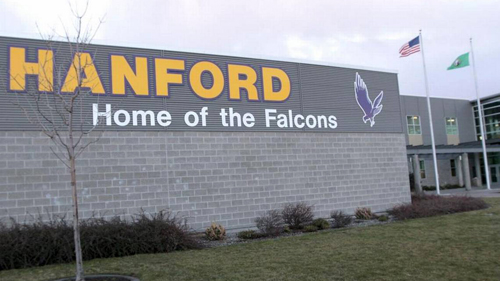 Hanford High School

450 Hanford Street
Richland, WA
Mascot: Falcons
Bombers v. Falcons

Games

Bombers

Falcons

Wins

15

523

139

Losses

2

42

65

Overall

17

565

204
Records by Head Coach

Wins

Losses

Ties

Mike Neidhold

12

2

0

Garrick Redden

2

0

0

Lonnie Pierson

1

0

0
Fran Rish Stadium