2006 Bomber Football
Friday September 15, 2006

Richland Tops Wa-Hi
2006 GAME 3: Friday September 15, 2006

Game Recap May 18, 2022
WALLA WALLA - The Richland Bombers raised their season record to 3-0 with a 16-7 victory over the Walla Walla Blue Devils on a rainy Friday night at Borleske Stadium.
"The defense played really well tonight," said Rochland coach Garrick Redden, whose team is 1-0 in the Columbia Basin 4A League. "We came out and played fairly well in the third quarter. We held them to 41 yards of rushing."
Richland trailed 7-0 at the half, as Wa-Hi quarterback Aaron Mettler hit Michael Najera with a 1-yard touchdown pass.
But early in the third quarter, the Bombers scored two TDs in a span of about 3 minutes.
First, Nick Leid connected with Jamison Rowe for a 10-yard scoring strike. Garrett Sutherland's extra-point kick tied it at 7.
Wa-Hi failed to move the ball on its ensuing series, and Richland's Marcelino Morales fielded the punt and returned the ball 63 yards for the go-ahead touchdown with 9:12 to play.
"We pretty much shut them down from there," said Redden.
Sutherland added a 21-yard field goal in the fourth quarter for insurance.
September 15, 2006

1

2

3

4

Final

Richland Bombers

0

0

13

3

16

Walla Walla Blue Devils

0

7

0

0

7
2nd Quarter

Touchdown: Michael Najera 1 Yd Pass from Aaron Mettler (Kick)
Walla Walla 7, Richland 0
3rd Quarter

Touchdown: Jamison Rowe 10 Yd Pass from Nick Leid (Garrett Sutherland Kick)
Richland 7, Walla Walla 7

Touchdown: Marcelino Morales 63 Yd Punt Return (kick failed) (9:12)
Richland 13, Walla Walla 7
4th Quarter

Field Goal: Sutherland 21 Yd Field Goal
Richland 16, Walla Walla 7
Walla Walla Blue Devils
Blue Devils v. Bombers History
Friday October 14, 2022 Borleske Stadium
Richland

Bombers

Walla Walla

Blue Devils

Head Coach: Mike Neidhold
Friday October 15, 2021 Borleske Stadium
Richland

Bombers

49

Walla Walla

Blue Devils

27

Head Coach: Mike Neidhold
Friday October 4, 2019 Fran Rish Stadium
Walla Walla

Blue Devils

35

Richland

Bombers

28

Head Coach: Mike Neidhold
Friday September 28, 2018 Borleske Stadium
Richland

Bombers

35

Walla Walla

Blue Devils

14

Head Coach: Mike Neidhold
Friday October 13, 2017 Borleske Stadium
Richland

Bombers

39

Walla Walla

Blue Devils

6

Head Coach: Mike Neidhold
Friday October 14, 2016 Fran Rish Stadium
Walla Walla

Blue Devils

14

Richland

Bombers

64

Head Coach: Mike Neidhold
Friday October 2, 2015 Fran Rish Stadium
Walla Walla

Blue Devils

19

Richland

Bombers

31

Head Coach: Mike Neidhold
Friday October 3, 2014 Borleske Stadium
Richland

0

Walla Walla

Blue Devils

34

Head Coach: Mike Neidhold
Friday September 13, 2013 Fran Rish Stadium
Walla Walla

Blue Devils

6

Richland

Bombers

21

Head Coach: Mike Neidhold
Friday September 7, 2012 Borleske Stadium
Richland

Bombers

26

Walla Walla

Blue Devils

20

Head Coach: Mike Neidhold
Friday October 14, 2011 Borleske Stadium
Richland

Bombers

31

Walla Walla

Blue Devils

15

Head Coach: Mike Neidhold
Friday October 15, 2010 Fran Rish Stadium
Walla Walla

Blue Devils

7

Richland

Bombers

34

Head Coach: Mike Neidhold
Friday October 23, 2009 Borleske Stadium
Richland

Bombers

21

Walla Walla

Blue Devils

35

Head Coach: Mike Neidhold
Thursday October 23, 2008 Fran Rish Stadium
Walla Walla

Blue Devils

19

Richland

Bombers

34

Head Coach: Mike Neidhold
Friday September 14, 2007 Fran Rish Stadium
Walla Walla

Blue Devils

14

Richland

Bombers

28

Head Coach: Garrick Redden
Friday September 15, 2006 Borleske Stadium
Richland

Bombers

16

Walla Walla

Blue Devils

7

Head Coach: Garrick Redden
Friday October 28, 2005 Borleske Stadium
Richland

Bombers

14

Walla Walla

Blue Devils

19

Head Coach: Garrick Redden
Friday October 29, 2004 Fran Rish Stadium
Walla Walla

Blue Devils

41

Richland

Bombers

34

Head Coach: Lonnie Pierson
Thursday November 1, 2001 Fran Rish Stadium
Walla Walla

Blue Devils

14

Richland

Bombers

0

Head Coach: Lonnie Pierson
Friday September 29, 2000 Fran Rish Stadium
Walla Walla

Blue Devils

21

Richland

Bombers

45

Head Coach: Lonnie Pierson
Friday October 1, 1999 Borleske Stadium
Richland

Bombers

21

Walla Walla

Blue Devils

42

Head Coach: Lonnie Pierson
1998
Walla Walla

Blue Devils

27

Richland

Bombers

14

Head Coach: Lonnie Pierson
1997
Walla Walla

Blue Devils

10

Richland

Bombers

14

Head Coach: Lonnie Pierson
1996
Walla Walla

Blue Devils

21

Richland

Bombers

16

Head Coach: Lonnie Pierson
1995
Walla Walla

Blue Devils

36

Richland

Bombers

20

Head Coach: Lonnie Pierson
1994
Walla Walla

Blue Devils

30

Richland

Bombers

14

Head Coach: Lonnie Pierson
1994 Fran Rish Stadium
Class "AAA" State Playoffs Quarterfinals; 500th Richland Bomber Football Game

Walla Walla

Blue Devils

14

Richland

Bombers

0

Head Coach: Lonnie Pierson
1993
Walla Walla

Blue Devils

24

Richland

Bombers

21

Head Coach: Lonnie Pierson
1992
Walla Walla

Blue Devils

14

Richland

Bombers

7

Head Coach: Lonnie Pierson
1991
Walla Walla

Blue Devils

8

Richland

Bombers

24

Head Coach: Lonnie Pierson
1990
Walla Walla

Blue Devils

14

Richland

Bombers

38

Head Coach: Lonnie Pierson
1989
Walla Walla

Blue Devils

6

Richland

Bombers

35

Head Coach: Lonnie Pierson
1988
Walla Walla

Blue Devils

7

Richland

Bombers

12

Head Coach: Lonnie Pierson
1987
Walla Walla

Blue Devils

14

Richland

Bombers

26

Head Coach: Lonnie Pierson
1986
Walla Walla

Blue Devils

7

Richland

Bombers

10

Head Coach: Lonnie Pierson
1985
Walla Walla

Blue Devils

21

Richland

Bombers

24

Head Coach: JD Covington
1984
Walla Walla

Blue Devils

19

Richland

Bombers

15

Head Coach: JD Covington
1983
Walla Walla

Blue Devils

14

Richland

Bombers

7

Head Coach: JD Covington
1982
Walla Walla

Blue Devils

42

Richland

Bombers

0

Head Coach: JD Covington
1981
Walla Walla

Blue Devils

12

Richland

Bombers

39

Head Coach: JD Covington
Friday October 17, 1980 Bomber Bowl
Walla Walla

Blue Devils

7

Richland

Bombers

33

Head Coach: JD Covington
1979
Walla Walla

Blue Devils

21

Richland

Bombers

12

Head Coach: JD Covington
1978
Walla Walla

Blue Devils

20

Richland

Bombers

42

Head Coach: JD Covington
1977
Walla Walla

Blue Devils

0

Richland

Bombers

14

Head Coach: JD Covington
1976
Walla Walla

Blue Devils

9

Richland

Bombers

7

Head Coach: JD Covington
1975
Walla Walla

Blue Devils

19

Richland

Bombers

41

Head Coach: JD Covington
1974
Walla Walla

Blue Devils

8

Richland

Bombers

27

Head Coach: JD Covington
1973
Walla Walla

Blue Devils

35

Richland

Bombers

14

Head Coach: JD Covington
Friday November 10, 1972 Bomber Bowl
Walla Walla

Blue Devils

6

Richland

Bombers

28

Head Coach: JD Covington
Friday November 12, 1971 Borleske Stadium
Richland

Bombers

0

Walla Walla

Blue Devils

19

Head Coach: JD Covington
1970
Jamboree

Walla Walla

Blue Devils

26

Richland

Bombers

6

Head Coach: George Rallis
1970
Walla Walla

Blue Devils

33

Richland

Bombers

7

Head Coach: George Rallis
1969
Walla Walla

Blue Devils

28

Richland

Bombers

6

Head Coach: George Rallis
1968
Jamboree

Walla Walla

Blue Devils

6

Richland

Bombers

0

Head Coach: George Rallis
1968
Walla Walla

Blue Devils

28

Richland

Bombers

6

Head Coach: George Rallis
1967
Walla Walla

Blue Devils

23

Richland

Bombers

14

Head Coach: George Rallis
1967
Walla Walla

Blue Devils

26

Richland

Bombers

0

Head Coach: George Rallis
1966 Borleske Stadium
Richland

Bombers

0

Walla Walla

Blue Devils

14

Head Coach: Fran Rish
1966 Fran Rish Stadium
Walla Walla

Blue Devils

20

Richland

Bombers

0

Head Coach: Fran Rish
1965
Walla Walla

Blue Devils

20

Richland

Bombers

13

Head Coach: Fran Rish
1965
Walla Walla

Blue Devils

21

Richland

Bombers

7

Head Coach: Fran Rish
1964
Walla Walla

Blue Devils

12

Richland

Bombers

6

Head Coach: Fran Rish
1964
Walla Walla

Blue Devils

21

Richland

Bombers

6

Head Coach: Fran Rish
Friday November 8, 1963 Borleske Stadium
Richland

Bombers

7

Walla Walla

Blue Devils

14

Head Coach: Fran Rish
1962
Walla Walla

Blue Devils

0

Richland

Bombers

7

Head Coach: Fran Rish
1961
Walla Walla

Blue Devils

7

Richland

Bombers

26

Head Coach: Fran Rish
1960
Walla Walla

Blue Devils

39

Richland

Bombers

18

Head Coach: Fran Rish
1959
Walla Walla

Blue Devils

13

Richland

Bombers

6

Head Coach: Fran Rish
1958
Walla Walla

Blue Devils

27

Richland

Bombers

0

Head Coach: Fran Rish
1957 Bomber Bowl
Walla Walla

Blue Devils

0

Richland

Bombers

20

Head Coach: Fran Rish
1957 Borleske Stadium
Richland

Bombers

12

Walla Walla

Blue Devils

12

Head Coach: Fran Rish
Friday October 5, 1956 Borleske Stadium
Richland

Bombers

21

Walla Walla

Blue Devils

28

Head Coach: Fran Rish
1955
Walla Walla

Blue Devils

20

Richland

Bombers

6

Head Coach: Fran Rish
1955
Walla Walla

Blue Devils

0

Richland

Bombers

13

Head Coach: Fran Rish
1954
Walla Walla

Blue Devils

6

Richland

Bombers

0

Head Coach: Fran Rish
1954
Walla Walla

Blue Devils

7

Richland

Bombers

0

Head Coach: Fran Rish
1953
Walla Walla

Blue Devils

7

Richland

Bombers

7

Head Coach: Fran Rish
Friday October 10, 1952 Borleske Stadium
Richland

Bombers

7

Walla Walla

Blue Devils

28

Head Coach: Fran Rish
Friday October 12, 1951 Bomber Bowl
Record Crowd of 6,700 at Bomber Bowl

Walla Walla

Blue Devils

19

Richland

Bombers

14

Head Coach: Fran Rish
Saturday October 14, 1950 Borleske Stadium
Richland

Bombers

6

Walla Walla

Blue Devils

21

Head Coach: Fran Rish
Friday October 4, 1946 Bomber Bowl
Walla Walla

Blue Devils

7

Richland

Bombers

0

Head Coach: Fran Rish
Friday October 5, 1945 Borleske Stadium
Richland

Bombers

0

Walla Walla

Blue Devils

21

Head Coach: Fred Littau
Walla Walla High School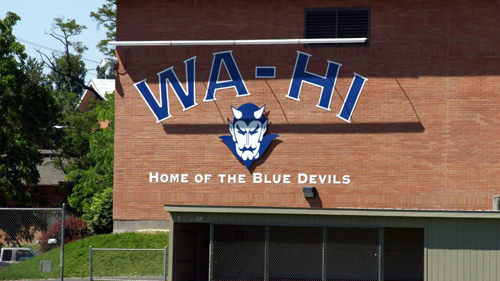 Walla Walla High School

800 Abbott Road
Walla Walla , WA
Mascot: Blue Devils
Bombers v. Blue Devils

Games

Bombers

Blue Devils

Wins

32

926

355

Losses

47

421

1,073

Ties

2

19

19

Overall

81

1,366

1,447
Records by Head Coach

Wins

Losses

Ties

Mike Neidhold

10

3

0

JD Covington

8

7

0

Lonnie Pierson

8

10

0

Fran Rish

4

18

2

Garrick Redden

2

1

0

Fred Littau

0

1

0

George Rallis

0

7

0
Borleske Stadium