Game 6: Richland 44, Kennewick 7
2014 GAME 6: Friday October 10, 2014

Game Recap October 11, 2014
After a very rough 1-4 start against some of the best competition east of Snoqualmie Pass, the Richland Bombers were understandably a little fed up and took out a season's worth of frustration on the Kennewick Lions in a 44-7 blowout that was really not as close as the scoreboard indicated.
The Richland defense, save for one play, manhandled the Lion offense forcing numerous three and out drives, eight punts, and a safety. Kennewick only experienced two plays in Bomber territory in the first half and fourteeen total for the game, eight of which occurred on the very last drive as time ran out. Of the 135 total yards earned by the Lions, 58 were on the ground as the Bomber line swallowed up anything that came near, and the secondary only allowed 77 total, 50 of those yards occurring on one play in the first quarter that gave Kennewick a 7-7 tie.
As formidable as the Bomber defense was, the Richland offense was in almost perfect sync for the first time this season. Taylor O'Toole was 23 for 33 in the air for 310 yards and two touchdowns. O'Tooles main targets were Matthew Woodman with nine catches for 110 yards and a touchdown, and Griffey March who caught six passes for 80 yards and also contributed 87 return yards to put the Bombers in great field position on several occasions. The Bombers leading rusher was Jacob Heinan with 73 yards on 16 carries.
The only real hiccup on the night occurred before the game when I tried to get a game program and found out that none were printed! Besides that, the game was almost perfect and Richland crowd was pretty good considering the PAC-12 had the audacity to schedule a game on a Friday night involving the WSU Cougars.
Next week, the Bombers travel back to Edgar Brown Memorial Stadium to take on the Pasco Bulldogs. Pasco started off hot but has run into problems the last couple weeks so it should be a fun night of football next week at 7:00. We hope to see you there.
Tri-City Herald: Richland blows past Kennewick
Go Bombers!
October 10, 2014

1

2

3

4

Final

Kennewick Lions

7

Richland Bombers

44
Kennewick Lions
Lions v. Bombers History
Friday October 7, 2022 Fran Rish Stadium
Kennewick

Lions

Richland

Bombers

Head Coach: Mike Neidhold
Saturday October 30, 2021 Neil F. Lampson Stadium
Richland

Bombers

7

Kennewick

Lions

27

Head Coach: Mike Neidhold
Friday March 5, 2021 Neil F. Lampson Stadium
Richland

Bombers

7

Kennewick

Lions

22

Head Coach: Mike Neidhold
Friday October 25, 2019 Fran Rish Stadium
Kennewick

Lions

19

Richland

Bombers

14

Head Coach: Mike Neidhold
Friday October 19, 2018 Neil F. Lampson Stadium
Richland

Bombers

35

Kennewick

Lions

14

Head Coach: Mike Neidhold
Friday September 15, 2017 Fran Rish Stadium
Kennewick

Lions

7

Richland

Bombers

48

Head Coach: Mike Neidhold
Thursday September 15, 2016 Neil F. Lampson Stadium
Richland

Bombers

40

Kennewick

Lions

0

Head Coach: Mike Neidhold
Friday October 9, 2015 Neil F. Lampson Stadium
Richland

Bombers

35

Kennewick

Lions

7

Head Coach: Mike Neidhold
Friday October 10, 2014 Fran Rish Stadium
Kennewick

Lions

7

Richland

Bombers

44

Head Coach: Mike Neidhold
Friday October 11, 2013 Neil F. Lampson Stadium
Richland

Bombers

56

Kennewick

Lions

14

Head Coach: Mike Neidhold
Friday October 5, 2012 Fran Rish Stadium
Kennewick

Lions

14

Richland

Bombers

29

Head Coach: Mike Neidhold
Friday October 10, 2008 Fran Rish Stadium
Kennewick

Lions

7

Richland

Bombers

41

Head Coach: Mike Neidhold
Friday September 2, 2005 Neil F. Lampson Stadium
Richland

Bombers

9

Kennewick

Lions

5

Head Coach: Garrick Redden
Friday September 10, 2004 Fran Rish Stadium
Kennewick

Lions

33

Richland

Bombers

8

Head Coach: Lonnie Pierson
Thursday November 6, 2003 Fran Rish Stadium
600th Richland Bomber Football Game

Kennewick

Lions

25

Richland

Bombers

28

Head Coach: Lonnie Pierson
Thursday November 7, 2002 Neil F. Lampson Stadium
Richland

Bombers

28

Kennewick

Lions

12

Head Coach: Lonnie Pierson
Friday September 14, 2001 Fran Rish Stadium
Kennewick

Lions

12

Richland

Bombers

33

Head Coach: Lonnie Pierson
Friday October 20, 2000 Fran Rish Stadium
Kennewick

Lions

26

Richland

Bombers

49

Head Coach: Lonnie Pierson
Friday October 22, 1999 Neil F. Lampson Stadium
Richland

Bombers

28

Kennewick

Lions

7

Head Coach: Lonnie Pierson
1998
Kennewick

Lions

12

Richland

Bombers

15

Head Coach: Lonnie Pierson
1997
Kennewick

Lions

20

Richland

Bombers

34

Head Coach: Lonnie Pierson
1996
Kennewick

Lions

16

Richland

Bombers

44

Head Coach: Lonnie Pierson
1995
Kennewick

Lions

30

Richland

Bombers

32

Head Coach: Lonnie Pierson
1994
Kennewick

Lions

17

Richland

Bombers

40

Head Coach: Lonnie Pierson
1993
Kennewick

Lions

6

Richland

Bombers

3

Head Coach: Lonnie Pierson
1992
Kennewick

Lions

36

Richland

Bombers

13

Head Coach: Lonnie Pierson
1991
Kennewick

Lions

56

Richland

Bombers

7

Head Coach: Lonnie Pierson
1990
Kennewick

Lions

7

Richland

Bombers

42

Head Coach: Lonnie Pierson
1989
Kennewick

Lions

27

Richland

Bombers

28

Head Coach: Lonnie Pierson
1989
Class "AAA" State Playoffs Quarterfinals

Kennewick

Lions

23

Richland

Bombers

21

Head Coach: Lonnie Pierson
1988
Kennewick

Lions

18

Richland

Bombers

19

Head Coach: Lonnie Pierson
1987
Kennewick

Lions

14

Richland

Bombers

35

Head Coach: Lonnie Pierson
1986
Kennewick

Lions

69

Richland

Bombers

17

Head Coach: Lonnie Pierson
1985
Kennewick

Lions

27

Richland

Bombers

17

Head Coach: JD Covington
1984
Kennewick

Lions

41

Richland

Bombers

6

Head Coach: JD Covington
1983
Kennewick

Lions

31

Richland

Bombers

0

Head Coach: JD Covington
1983 Fran Rish Stadium
Big Nine Mini-Playoff (Two 8-minute quarters); 400th Richland Bomber Football Game

Kennewick

Lions

14

Richland

Bombers

7

Head Coach: JD Covington
1982
Kennewick

Lions

20

Richland

Bombers

0

Head Coach: JD Covington
1981
Kennewick

Lions

14

Richland

Bombers

10

Head Coach: JD Covington
1981
Class "AAA" State Playoffs Quarterfinals

Kennewick

Lions

7

Richland

Bombers

34

Head Coach: JD Covington
Friday September 19, 1980 Neil F. Lampson Stadium
Richland

Bombers

20

Kennewick

Lions

7

Head Coach: JD Covington
1979
Kennewick

Lions

35

Richland

Bombers

14

Head Coach: JD Covington
1978
Kennewick

Lions

0

Richland

Bombers

7

Head Coach: JD Covington
1977
Kennewick

Lions

7

Richland

Bombers

21

Head Coach: JD Covington
1976
Kennewick

Lions

0

Richland

Bombers

28

Head Coach: JD Covington
Friday October 31, 1975
Kennewick

Lions

20

Richland

Bombers

35

Head Coach: JD Covington
1974
Kennewick

Lions

0

Richland

Bombers

14

Head Coach: JD Covington
1973
Kennewick

Lions

6

Richland

Bombers

7

Head Coach: JD Covington
Friday October 6, 1972 KHS Stadium
Richland

Bombers

27

Kennewick

Lions

7

Head Coach: JD Covington
Friday October 8, 1971 Bomber Bowl
Kennewick

Lions

8

Richland

Bombers

28

Head Coach: JD Covington
1970
Kennewick

Lions

26

Richland

Bombers

6

Head Coach: George Rallis
1969
Kennewick

Lions

0

Richland

Bombers

20

Head Coach: George Rallis
1969
Kennewick

Lions

26

Richland

Bombers

14

Head Coach: George Rallis
1968
Kennewick

Lions

6

Richland

Bombers

14

Head Coach: George Rallis
1967
Kennewick

Lions

7

Richland

Bombers

29

Head Coach: George Rallis
1966 Neil F. Lampson Stadium
Richland

Bombers

13

Kennewick

Lions

13

Head Coach: Fran Rish
1965
Kennewick

Lions

7

Richland

Bombers

25

Head Coach: Fran Rish
1964
Kennewick

Lions

20

Richland

Bombers

13

Head Coach: Fran Rish
Friday October 4, 1963 KHS Stadium
Fran Rish's 100th Victory

Richland

Bombers

20

Kennewick

Lions

7

Head Coach: Fran Rish
1962
Kennewick

Lions

6

Richland

Bombers

0

Head Coach: Fran Rish
1961
Kennewick

Lions

13

Richland

Bombers

14

Head Coach: Fran Rish
1960
Kennewick

Lions

13

Richland

Bombers

18

Head Coach: Fran Rish
1959
Kennewick

Lions

24

Richland

Bombers

45

Head Coach: Fran Rish
1958
Kennewick

Lions

26

Richland

Bombers

27

Head Coach: Fran Rish
1957 Bomber Bowl
Kennewick

Lions

0

Richland

Bombers

20

Head Coach: Fran Rish
Friday October 26, 1956 Lions Field
Richland

Bombers

33

Kennewick

Lions

0

Head Coach: Fran Rish
1955
Kennewick

Lions

20

Richland

Bombers

7

Head Coach: Fran Rish
1954
Kennewick

Lions

13

Richland

Bombers

27

Head Coach: Fran Rish
1953
Kennewick

Lions

6

Richland

Bombers

32

Head Coach: Fran Rish
Friday October 17, 1952 KHS Stadium
Richland

Bombers

20

Kennewick

Lions

12

Head Coach: Fran Rish
Friday October 19, 1951 Bomber Bowl
Homecoming

Kennewick

Lions

7

Richland

Bombers

21

Head Coach: Fran Rish
Saturday October 21, 1950 Bomber Bowl
Kennewick

Lions

13

Richland

Bombers

32

Head Coach: Fran Rish
Friday October 21, 1949 Bomber Bowl
Kennewick

Lions

12

Richland

Bombers

14

Head Coach: Fran Rish
Friday October 22, 1948 KHS Stadium
Richland

Bombers

13

Kennewick

Lions

16

Head Coach: Fran Rish
Friday October 10, 1947 Neil F. Lampson Stadium
Richland

Bombers

0

Kennewick

Lions

7

Head Coach: Fran Rish
Friday October 11, 1946 Neil F. Lampson Stadium
Richland

Bombers

0

Kennewick

Lions

6

Head Coach: Fran Rish
Friday October 26, 1945 Bomber Bowl
Kennewick

Lions

47

Richland

Bombers

6

Head Coach: Fred Littau
Friday November 16, 1945 KHS Stadium
Richland

Bombers

0

Kennewick

Lions

44

Head Coach: Fred Littau
Friday October 20, 1944
Mascot officially changed from Broncs to Beavers

Richland

Beavers

18

Kennewick

Lions

13

Head Coach: John F. Eubanks
Thursday November 23, 1944
Kennewick

Lions

6

Richland

Beavers

46

Head Coach: John F. Eubanks
1926
Kennewick

Lions

0

Richland

Colts

0

Head Coach: Raymond V. Puette
1925
Kennewick

Lions

18

Richland

Colts

0

Head Coach: VG Lowman
1919
Kennewick

Lions

69

Richland

0

Head Coach: Elmer H Dixon
1919
Kennewick

Lions

1

Richland

0

Head Coach: Elmer H Dixon
1916
Kennewick

Lions

7

Richland

0

Head Coach: C. H. Lillie
1916
Kennewick

Lions

0

Richland

0

Head Coach: C. H. Lillie
1915
Kennewick

Lions

8

Richland

0

Head Coach: C. H. Lillie
1915
Kennewick

Lions

22

Richland

6

Head Coach: C. H. Lillie
1914
Kennewick

Lions

0

Richland

6

Head Coach: C. H. Lillie
1914
Kennewick

Lions

0

Richland

41

Head Coach: C. H. Lillie
1912
Kennewick

Lions

20

Richland

0

Head Coach: C. H. Lillie
1912
Kennewick

Lions

39

Richland

0

Head Coach: C. H. Lillie
Kennewick High School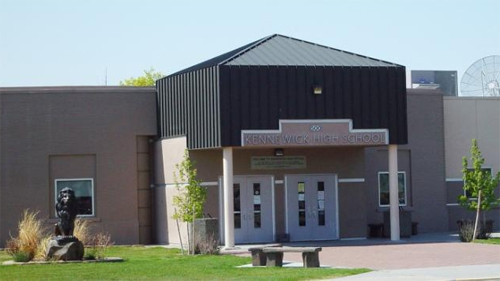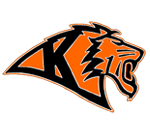 Kennewick High School

500 S Dayton Street
Kennewick, WA
Mascot: Lions
Bombers v. Lions

Games

Bombers

Lions

Wins

54

1,535

565

Losses

34

216

875

Ties

3

13

13

Overall

91

1,764

1,453
Records by Head Coach

Wins

Losses

Ties

Fran Rish

14

6

1

Lonnie Pierson

14

6

0

JD Covington

10

7

0

Mike Neidhold

8

3

0

George Rallis

3

2

0

C. H. Lillie

2

5

1

John F. Eubanks

2

0

0

Garrick Redden

1

0

0

Elmer H Dixon

0

2

0

VG Lowman

0

1

0

Raymond V. Puette

0

0

1

Fred Littau

0

2

0
Neil F. Lampson Stadium