2006 Bomber Football
Friday September 29, 2006

Richland Bombers 26, Wenatchee 7
2006 GAME 5: Friday September 29, 2006

Game Recap May 18, 2022
WENATCHEE - Marcelino Morales rushed for 163 yards and a touchdown and Richland built a 20-0 third-quarter lead en route to a Columbia Basin 4A League victory at the Apple Bowl.
"It's a good, solid win," said Richland coach Garrick Redden. "It's always nice to win on the road, especially when you have to take a long bus like we had to today."
The Richland defense took charge in the first quarter as Garrett Sutherland intercepted a Brian Goff pass and raced 24 yards for a touchdown. The Bombers extended the lead to 14-0 in the second quarter on a 6-yard touchdown run by quarterback Nick Leid, and Jamison Rowe made it 20-0 with a 24-yard TD run.
"We played well in stretches, but we put ourselves in too many long-yardage situations because of penalties," Redden said. "We're still working on putting a complete game together."
The Panthers finally struck in the third quarter on a 20-yard scoring pass from Goff to Josh Nees, but Morales put any Wenatchee comeback hopes to rest with a 40-yard touchdown run in the foruth quarter.
September 29, 2006

1

2

3

4

Final

Richland Bombers

7

13

0

6

26

Wenatchee Panthers

0

0

0

7

7
1st Quarter

Touchdown: Garett Sutherland 24 Yd Int Return (Sutherland Kick)
Richland 7, Wenatchee 0
2nd Quarter

Touchdown: Nick Leid 6 Yd Run (Sutherland Kick)
Richland 14, Wenatchee 0

Touchdown: Jamison Rowe 24 Yd Run (Sutherland Kick Failed)
Richland 20, Wenatchee 0
4th Quarter

Touchdown: Josh Nees 20 Yd Pass from Brian Goff (James Gallaher Kick)
Richland 20, Wenatchee 7

Touchdown: Marcelino Morales 40 Yd Run (kick failed)
Richland 26, Wenatchee 7
Wenatchee Panthers
Panthers v. Bombers History
Friday September 8, 2017 Fran Rish Stadium
Wenatchee

Panthers

8

Richland

Bombers

56

Head Coach: Mike Neidhold
Friday September 9, 2016 The Apple Bowl
Richland

Bombers

40

Wenatchee

Panthers

12

Head Coach: Mike Neidhold
Friday October 7, 2011 The Apple Bowl
Richland

Bombers

24

Wenatchee

Panthers

0

Head Coach: Mike Neidhold
Friday October 8, 2010 Fran Rish Stadium
Wenatchee

Panthers

19

Richland

Bombers

31

Head Coach: Mike Neidhold
Friday October 30, 2009 The Apple Bowl
Big Nine Crossover Series

Richland

Bombers

7

Wenatchee

Panthers

40

Head Coach: Mike Neidhold
Friday October 31, 2008 Fran Rish Stadium
Big Nine Playoffs

Wenatchee

Panthers

6

Richland

Bombers

14

Head Coach: Mike Neidhold
Friday September 28, 2007 Fran Rish Stadium
Wenatchee

Panthers

35

Richland

Bombers

28

Head Coach: Garrick Redden
Friday September 29, 2006 The Apple Bowl
Richland

Bombers

26

Wenatchee

Panthers

7

Head Coach: Garrick Redden
Friday September 23, 2005 The Apple Bowl
Richland

Bombers

14

Wenatchee

Panthers

27

Head Coach: Garrick Redden
Friday September 24, 2004 Fran Rish Stadium
Wenatchee

Panthers

28

Richland

Bombers

22

Head Coach: Lonnie Pierson
Friday October 31, 2003 The Apple Bowl
Richland

Bombers

28

Wenatchee

Panthers

14

Head Coach: Lonnie Pierson
Friday November 1, 2002 Fran Rish Stadium
Wenatchee

Panthers

19

Richland

Bombers

21

Head Coach: Lonnie Pierson
Friday October 5, 2001 Fran Rish Stadium
Wenatchee

Panthers

21

Richland

Bombers

20

Head Coach: Lonnie Pierson
Friday October 6, 2000 The Apple Bowl
Richland

Bombers

35

Wenatchee

Panthers

28

Head Coach: Lonnie Pierson
Friday October 8, 1999 Fran Rish Stadium
Wenatchee

Panthers

7

Richland

Bombers

24

Head Coach: Lonnie Pierson
1998
Wenatchee

Panthers

31

Richland

Bombers

14

Head Coach: Lonnie Pierson
1997
Wenatchee

Panthers

24

Richland

Bombers

20

Head Coach: Lonnie Pierson
1996
Wenatchee

Panthers

6

Richland

Bombers

44

Head Coach: Lonnie Pierson
1995
Wenatchee

Panthers

4

Richland

Bombers

27

Head Coach: Lonnie Pierson
1994
Wenatchee

Panthers

0

Richland

Bombers

37

Head Coach: Lonnie Pierson
1993
Wenatchee

Panthers

6

Richland

Bombers

30

Head Coach: Lonnie Pierson
1992
Wenatchee

Panthers

6

Richland

Bombers

32

Head Coach: Lonnie Pierson
1991
Wenatchee

Panthers

10

Richland

Bombers

13

Head Coach: Lonnie Pierson
1990
Wenatchee

Panthers

7

Richland

Bombers

45

Head Coach: Lonnie Pierson
1989
Wenatchee

Panthers

12

Richland

Bombers

39

Head Coach: Lonnie Pierson
1988
Wenatchee

Panthers

14

Richland

Bombers

34

Head Coach: Lonnie Pierson
1987
Wenatchee

Panthers

7

Richland

Bombers

28

Head Coach: Lonnie Pierson
1986
Wenatchee

Panthers

10

Richland

Bombers

14

Head Coach: Lonnie Pierson
1985
Wenatchee

Panthers

6

Richland

Bombers

41

Head Coach: JD Covington
1984
Wenatchee

Panthers

6

Richland

Bombers

19

Head Coach: JD Covington
1983
Wenatchee

Panthers

8

Richland

Bombers

36

Head Coach: JD Covington
1982
Wenatchee

Panthers

6

Richland

Bombers

0

Head Coach: JD Covington
1981
Wenatchee

Panthers

0

Richland

Bombers

20

Head Coach: JD Covington
Friday October 3, 1980 Bomber Bowl
Wenatchee

Panthers

7

Richland

Bombers

0

Head Coach: JD Covington
1979
Wenatchee

Panthers

7

Richland

Bombers

13

Head Coach: JD Covington
1978
Wenatchee

Panthers

14

Richland

Bombers

21

Head Coach: JD Covington
1977
Wenatchee

Panthers

0

Richland

Bombers

19

Head Coach: JD Covington
1976
Wenatchee

Panthers

13

Richland

Bombers

27

Head Coach: JD Covington
1975
Wenatchee

Panthers

7

Richland

Bombers

14

Head Coach: JD Covington
1974 Bomber Bowl
300th Richland Bomber Football Game

Wenatchee

Panthers

17

Richland

Bombers

8

Head Coach: JD Covington
1973
Wenatchee

Panthers

23

Richland

Bombers

0

Head Coach: JD Covington
Friday November 3, 1972 Bomber Bowl
Wenatchee

Panthers

29

Richland

Bombers

6

Head Coach: JD Covington
Friday November 5, 1971 The Apple Bowl
Richland

Bombers

7

Wenatchee

Panthers

13

Head Coach: JD Covington
1970
Wenatchee

Panthers

34

Richland

Bombers

13

Head Coach: George Rallis
1969
Wenatchee

Panthers

42

Richland

Bombers

0

Head Coach: George Rallis
1968
Wenatchee

Panthers

7

Richland

Bombers

7

Head Coach: George Rallis
1967
Wenatchee

Panthers

34

Richland

Bombers

7

Head Coach: George Rallis
1966 Fran Rish Stadium
Wenatchee

Panthers

21

Richland

Bombers

6

Head Coach: Fran Rish
Friday September 27, 1963 The Apple Bowl
Richland

Bombers

19

Wenatchee

Panthers

7

Head Coach: Fran Rish
1962
Wenatchee

Panthers

32

Richland

Bombers

14

Head Coach: Fran Rish
1959
Wenatchee

Panthers

12

Richland

Bombers

0

Head Coach: Fran Rish
1958
Wenatchee

Panthers

20

Richland

Bombers

0

Head Coach: Fran Rish
1957 The Apple Bowl
Richland

Bombers

6

Wenatchee

Panthers

15

Head Coach: Fran Rish
Friday October 19, 1956 Bomber Bowl
Wenatchee

Panthers

14

Richland

Bombers

28

Head Coach: Fran Rish
1955
Wenatchee

Panthers

7

Richland

Bombers

13

Head Coach: Fran Rish
1954
Wenatchee

Panthers

0

Richland

Bombers

14

Head Coach: Fran Rish
1953
Wenatchee

Panthers

0

Richland

Bombers

7

Head Coach: Fran Rish
Friday November 7, 1952 Bomber Bowl
Wenatchee

Panthers

0

Richland

Bombers

19

Head Coach: Fran Rish
Saturday November 10, 1951 The Apple Bowl
Richland

Bombers

7

Wenatchee

Panthers

6

Head Coach: Fran Rish
Friday September 15, 1950 Bomber Bowl
Wenatchee

Panthers

7

Richland

Bombers

25

Head Coach: Fran Rish
Friday September 16, 1949 The Apple Bowl
Richland

Bombers

6

Wenatchee

Panthers

0

Head Coach: Fran Rish
Friday September 17, 1948 Bomber Bowl
Wenatchee

Panthers

31

Richland

Bombers

12

Head Coach: Fran Rish
Wenatchee High School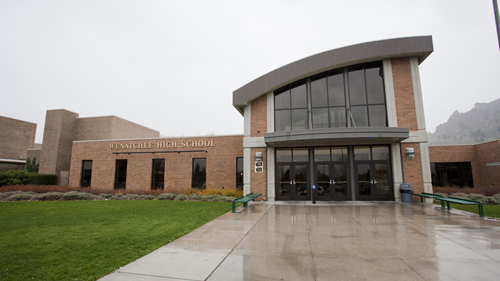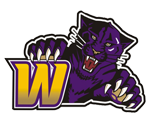 Wenatchee High School

1101 Millerdale Avenue
Wenatchee, WA
Mascot: Panthers
Bombers v. Panthers

Games

Bombers

Panthers

Wins

39

990

304

Losses

22

204

542

Ties

1

7

7

Overall

62

1,201

853
Records by Head Coach

Wins

Losses

Ties

Lonnie Pierson

15

4

0

Fran Rish

9

6

0

JD Covington

9

6

0

Mike Neidhold

5

1

0

Garrick Redden

1

2

0

George Rallis

0

3

1
The Apple Bowl